Thoughtful views of Mr. Ajay Gupta at digital transformation of street vendors event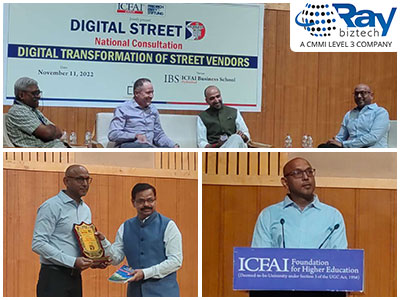 Digital technologies has created innovations, and new business models that can be used by both formal and informal sector enterprises. Conjunction of arising & existing digital technologies can create hybrid innovations and thus stimulating informal entrepreneurs including the street vendors to enhance their business practices. The Digital Transformation of Street Vendors event concentrated to economizie their digital inclusion.
Mr. Ajay Gupta, Co-founder & CEO of Ray Business Technologies, is the panel speaker at the 'Digital Transformation of Street Vendors' event organized by the ICFAI Foundation for IFHE (Higher Education) today at IBS, Hyderabad.
He shared his valuable ideas, views & suggestions on how can Street Vendors be part of the Digital Ecosystem and also extended all possible support in taking this forward.