RBT Campus Drive at Technocrats Institute of Technology, Bhopal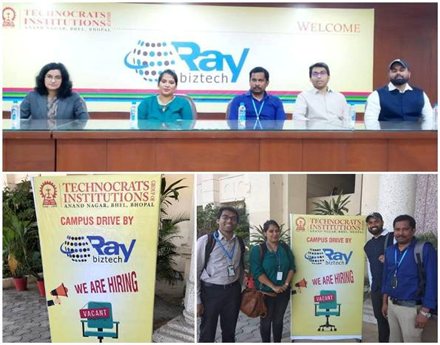 Bhopal, India. February 25th, 2019. As an organization focused at overall utilization of resources with the degree of innovation in a dynamic business environment, Raybiztech is keen on hiring developers and consultants to increase its headcount as well as enrich technical expertise of the teams working across a number of domains and projects.

The hiring team successfully concluded an exclusive on-campus recruitment drive at the Technocrats Institute of Technology in Bhopal, which is a part of the Technocrats Group of Institutions. Our comprehensive employee growth and development plan involve nurturing new resources towards career growth with a focus on potential in emerging technologies such as Cloud, Mobility, Big Data, AI, as well as Data Sciences.

As part of a long vision coupled with a growth strategy, we aim at harnessing young faces and fresh graduates from institutes across the country. The budding aspirants for IT jobs will be trained at Raybiztech under competent mentors to offer a unique element of productivity through novel problem-solving and application of specialized areas in technology at the workplace.

The recruiting team, including technical managers, worked tirelessly to evaluate a record number of candidates in the stipulated time-frame. With the selection and placement, the deserving candidates will explore a plethora of opportunities to work on cutting-edge projects with their respective teams. With this exercise, Raybiztech has scouted the gem of talent from one of the prestigious technology institutes in Bhopal.
About Raybiztech
Raybiztech provides IT Solutions in the areas of Enterprise Resource Planning (ERP), Enterprise Portals and Content Management (EPCM), Customer Relationship Management (CRM), Enterprise Mobility and Cloud including Product Development and Life-Cycle Support. The firm has a track record in serving clients across Media and Entertainment, Retail, Manufacturing, Healthcare, Finance and Insurance, Telecom, Energy and Utilities.