Ray Business Technologies in the Jury for JNTU-HUB "Women Safety" Hackathon League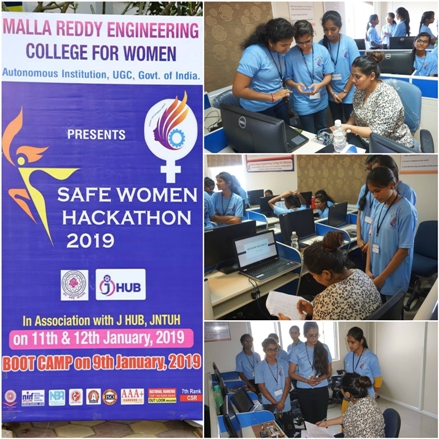 Hyderabad, India. January 11-12, 2019. The Hackathon has been organized under the auspices of J-Hub, the Innovation and R&D initiative of JNTU Hyderabad, which inculcates passion for innovation and the desire to disrupt with new ideas among budding young graduates.The contest revolved around different subjects such as water conservation, agriculture, renewable energy, and more.

The JNTU J-HUB - Hackathon League offered a unique platform driven by creativity and professionalism for upcoming industry professionals, under the theme 'INNOVATE FOR SUSTAINABLE DEVELOPMENT'. The Hackathon League encouraged participants towards choosing challenging areas such as tech-entrepreneurship.

The event was supported by HYSEA (Hyderabad Software Enterprises Association) and witnessed enthusiastic participation from 15 engineering colleges in order to showcase their coding skills. The participation also underlined their concern towards the cause of safety for women.

Raybiztech team is honored to have been chosen as part of the jury at the Malla Reddy College of Engineering, which also speaks of our efforts to boost collaboration among technology professionals and well-known institutions in terms of skill potential. This goes a long way in addressing technology as well as resources vacuum in the years to come.
About Raybiztech:
Ray Business Technologies Private Limited is a Global Information Technology (IT) Services and Solutions company. We are a CMMI Level 3, and ISO 9001:2015 & ISO 27001:2013 Certified company. Through our excellent team of Technology Professionals, we provide cutting-edge IT Solutions to Enterprises globally, empowering them to utilize available resources and manage their operations effectively by improving efficiency, optimizing services, securing information and reducing costs in North America, Australia, Canada, Middle East and Asia.