Ray Business Technologies at IBS ICOMBS 2019 Hyderabad as the Title Sponsor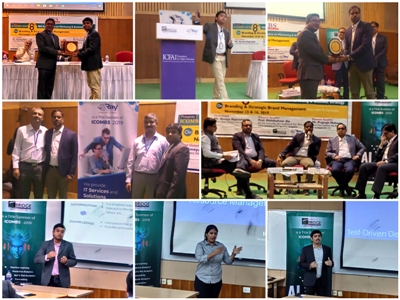 Organizations and marketers focus on developing a strong positive perception about their offerings in the minds of the consumer or the end-customer. The ICOMBS 2019 conference was held at IBS Hyderabad on 15-16 November 2019 in association with Raybiztech as the Title Sponsor for the event. The conclave brought together experts and academicians with opportunities to share the latest research in the areas of marketing, product development, and branding. It also offered us the opportunity to be a part of panel discussions and deliberate on key topics.
Mr. Ajay Ray, Managing Director, Raybiztech led an engaging and thoughtful panel discussion on ways to mobilize resources to revolutionize and tweak traditional branding strategies. The talk focused on new ways to leverage present-day technology in empowering and enriching the brand for the new-age consumer. Mr. Prajnajit Mohanty, Chief Decision Scientist, shared valuable insights on the emerging role of Artificial Intelligence in brand building and creating a tech-driven and automated strategy for accelerating the time-to-market. He also delivered a key session around Data Strategy on the second day of the summit.
As the Title Sponsor at ICOMBS 2019, Raybiztech marked a strong presence at the meet with a series of crucial sessions lined up on both of the days. Speakers from Raybiztech availed the opportunity to address the audience and distinguished guests. The sessions respectively focused on reinventing human resource strategies, as well as the approach to augment software development in a test-driven environment. It enlightened the attendees with a holistic view of emerging practices, and ways to realign strategy at various functional levels.
The landmark summit offered scope for networking and collaboration among top academicians as well as thought leaders from several industry corners. It helped discover ways to build synergy out of various platforms used in building a comprehensive marketing and branding strategy. With new-age tools and digital platforms that help sustain brands, firms must embrace transformation to help them understand and pursue customer requirements.
About Raybiztech
Raybiztech is a leading global Information Technology (IT) Services and Solutions provider, CMMI Level 3, ISO 27001:2013 and ISO9001:2015 Certified Company. Raybiztech offers comprehensive end-to-end IT Services for Business Application Development, Enterprise Solutions, Enterprise Collaboration Services, Testing and Quality Assurance Services, Cloud Computing and IT Infrastructure Management to organizations in the Banking & Finance, Insurance, Healthcare, Manufacturing, Retail, Media & Entertainment, Leisure & Travel, Telecom and Energy & Utilities verticals as well as Independent Software Vendors.