Ray Business Technologies is now a Boomi Implementation Partner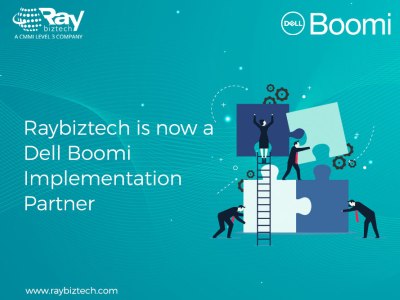 Raybiztech is now proud to become a Dell Boomi implementation partner. The firm has achieved the milestone after fulfilling all the criteria including successful completion of the Partner Accelerator Program. We are now capable of extending support to the customers and clients towards hassle-free Boomi integration and digital transformation needs.
With this partnership, Raybiztech is at the 'Advanced' stage of the Partner Accelerator Program. This is in addition to standard sales support and technical assistance shared across the respective partner program. The achievement also testifies our team of Dell Boomi resources has acquired the requisite knowhow and technical knowledge, in addition to the competency levels of an implementation partner.
We are capable of establishing a benchmark in system integration by mentoring our customers throughout the Boomi implementation life-cycle. The Programmatic Partnership Model outlined by Boomi also offers great benefits to partners in terms of rapid implementation and quick turnaround times. A committed customer-relationship approach will enable Raybiztech to drive implementation of unmatched and highly innovative integration projects around the Boomi platform.
About Raybiztech
Raybiztech is a leading global Information Technology (IT) Services and Solutions, a CMMI Level 3, ISO 27001:2013 and ISO 9001:2015 Certified Company. We are a Member of NASSCOM, HYSEA, NJTC, and AIIA. Raybiztech offers comprehensive end-to-end IT Services for Business Application Development, Enterprise Solutions, Enterprise Collaboration Services, Testing and Quality Assurance Services, Cloud Computing and IT Infrastructure Management to organizations in the Banking & Finance, Insurance, Healthcare, Manufacturing, Retail, Media & Entertainment, Leisure & Travel, Telecom and Energy & Utilities verticals as well as Independent Software Vendors.