Ray Business Technologies adds Editable Image widget to Kentico marketplace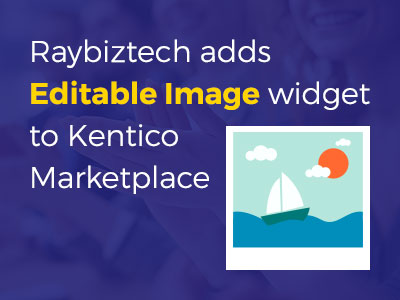 We are proud to announce Raybiztech has developed the Editable Image widget component and published the same into Kentico marketplace. It allows developers to select the required image and add desirable properties like dimensions, redirection link, and alt text. This will give flexibility to the developers to work on Kentico 12 MVC with more flexibility and creativity. It can offer the option to render the image as link, or even link to a CSS Class.

While building robust websites with rich CMS features and graphics, the flexibility to apply widgets becomes all the more important. Developers at Raybiztech have worked on this unique widget that can select an image from the library and set its properties such as dimensions. For using the feature, please install the requisite Package to your Kentico 12 MVC beforehand. The widget can be used for Kentico12.0.29 MVC instance and higher.

You can check out the Editable Image widget in Kentico marketplace.
About Raybiztech
Raybiztech is a CMMI Level 3 IT Services provider. Apart from the accustomed ERP, Mobility, and CRM tools, we have expertise in innovative and upcoming technologies such as Cloud, Big Data, Deep Learning and Artificial Intelligence. Raybiztech is proud to serve customers across several locations, with a team of resources that are capable of understanding client requirements from a diverse set of domains and verticals.
About Kentico
Kentico is a fully integrated ASP.NET CMS, eCommerce and Online Marketing platform that enables to create cutting-edge websites and optimizes digital customer experience across multiple channels. The Kentico 12 release in 2018 features an MVC Builder application for developing rich applications with minimal development and debugging efforts.