Ray Business Technologies at Kentico Connection 2019 in Melbourne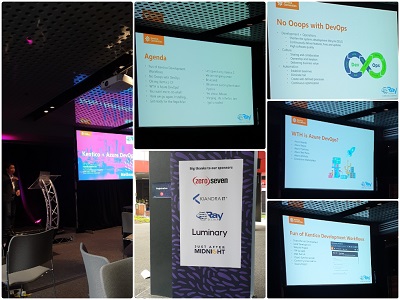 Kentico Connection 2019 was held on 16-17 October 2019 at Melbourne, Australia. The convention brought together experts and thought leaders associated with Kentico across the globe and the Asia-Pacific. The attendees exchanged knowledge and thought-breaking ideas on Kentico 12 capabilities. With innovative choices of layout and user-friendly features like personalization and widget customizations, the newest release effectively serves the niche as well as large-scale capabilities.
As the Gold Partner, Raybiztech has focused on an immense potential for rapid Kentico development and deployment. Mr. Eugene Paden, CTO, Ray Business Technologies, delivered an exclusive session on ways to leverage DevOps to drive Continuous Integration and Deployment. The talk covered key takeaways concerning Build and Release validations, Development Models, Test Plans, DB rules and Firewalls, Git Branching – with the ideal DevOps roadmap that sustains continuous integration in an Azure environment.
The Kentico Connection conclave in Melbourne allowed developers as well as marketers to discover some exciting features that help businesses build great websites with the Version 12. The meet helped end-users and business leaders find ways of improving stability and innovation that drive performance with cutting-edge features of the Kentico software.
The conference engaged the attendees and audience with immense networking opportunities, as well as the potential to collaborate across functional and technical expertise. The event enabled a greater focus on result-oriented training and mobilization of Kentico resources to build some world-class applications with immediate go-to-market readiness and flawless capabilities. These are aimed at improving revenue figures and generating the desired ROI across the digital and web platforms.
About Raybiztech
Raybiztech is a leading global Information Technology (IT) Services and Solutions, a CMMI Level 3, ISO 27001:2013 and ISO 9001:2015 Certified Company. We are a Member of NASSCOM, HYSEA, NJTC, and AIIA. The company offers comprehensive end-to-end IT Services for Business Application Development, Enterprise Solutions, Enterprise Collaboration Services, Testing and Quality Assurance Services, Cloud Computing and IT Infrastructure Management to organizations in the Banking & Finance, Insurance, Healthcare, Manufacturing, Retail, Media & Entertainment, Leisure & Travel, Telecom and Energy & Utilities verticals as well as Independent Software Vendors.