IT Solutions for Media & Broadcasting Industry
Technology is evolving rapidly, new business models are constantly emerging, consumer habits are changing and competition is increasing from multiple sectors.
Our deep technology and consulting experience helps media and entertainment companies to be ready to the realities of the digital age, simplify operations, understand consumers better, gain on new digital opportunities and provide services effectively.
Our Media and Broadcasting practice has successfully offered services and solutions to customers across the Media & Broadcasting, digital agencies, film, gaming, and publishing companies.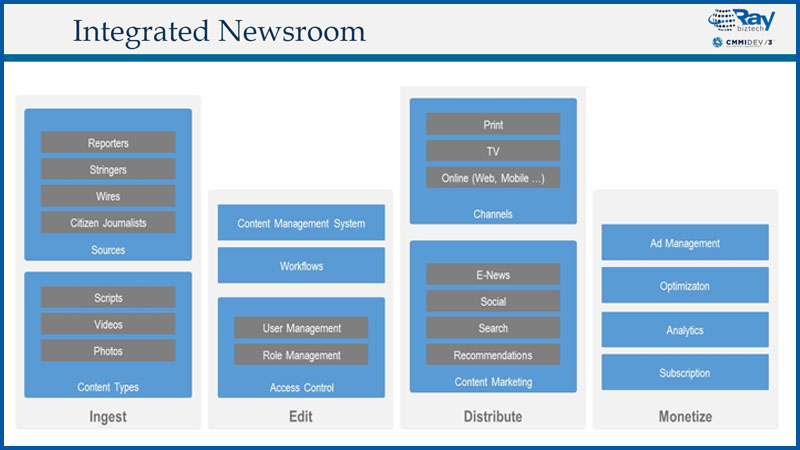 What Raybiztech Provides
Content Management Solution
Integrated Newsroom Solution
Media Asset Management
Newsroom Control System Integrations
Ad Platform Integrations for Pre-roll, Mid-roll and Post-roll
OTT Platform Development
Live Streaming and VOD solutions
EPG Integration
Mobile and TV App Development
Infrastructure Optimisation
Advertising and New Media: Advertising platforms, self-service advertising, online and mobile advertising, Multi-channel distribution (B2B), Trafficking and ad sales, Media planning and buying
Information Services: Integrated workflow management and editorial systems, Content acquisition, Content digitization, standardization, centralization and management solutions, Information analytics, reporting and circulation systems
We have proven track record in delivering value to Media & Broadcasting companies across the world, with years of experience in:
Working with few of Asia's leading media houses implementing Integrated Newsrooms
Delivering very high-volume news websites with easy to use CMS solution
Integrations with Newsroom Control (Automation) Systems
Integrations with Social and Analytics Platforms
Delivering Identity Management Solution
Delivering Mobile Applications with Ad platform integration for better ROI
Delivering Over the Top (OTT) Solutions
We also provide IT Services for:
Application Development & Maintenance
Application Modernization
Packaged or Off-the-self Application Services
Performance Engineering and Enhancement
E-commerce (Magento/Prestashop/LiveCommerce)
Case Studies