Mr. Prajnajit at NASSCOM SME CIO Connect 2019 at Gurugram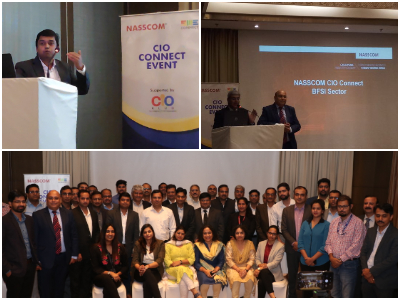 The NASSCOM SME CIO Connect Session was held at Gurugram on 23 October 2019. The conclave offered a platform for CIOs across the financial services domain to interact and share deep knowledge in crucial operational as well as technical areas. Given the nature of the digital era and the race to move ahead, firms must innovate to beat the competition. NASSCOM platform opened pathways for SMEs to utilize resources for next-gen transformation across the specific business areas.
Raybiztech delightedly participated at the meet and interacted with thought leaders and enthusiasts from prominent players in the BFSI sector. Raybiztech Chief Decision Scientist Mr. Prajnajit Mohanty engaged the attendees with new ways for improving the processes in the financial domain. He deliberated on AIMunshi, one of the advanced tools to capture data from real-time transactions with the power of AI. The product can revolutionize crucial processes and accelerate growth for enterprises in general, including the core banking and financial services operations.
The meet offered avenues for fueling growth by the latest tools and methodologies, thereby boosting business partnerships. It involved technology executives from leading enterprises who collaborated on the technology-driven roadmap for SMEs. With the changing business landscape, the BFSI CIO Connect forum deliberated on the challenges lying ahead for growth, and the means to overcome those.
Combined with operational excellence and tools for automating processes, businesses can now scale up their productivity and boost the potential for revenues. The SMEs in the Indian technology space in general, including the BFSI sector, are poised to witness growth with the help of technology and optimum utilization of resources. The platform sought to chart the path for more such inspiring journeys for enterprises' growth.
About Raybiztech
Raybiztech is a leading global Information Technology (IT) Services and Solutions provider, CMMI Level 3, ISO 27001:2013 and ISO 9001:2015 Certified Company. Raybiztech offers comprehensive end-to-end IT Services for Business Application Development, Enterprise Solutions, Enterprise Collaboration Services, Testing and Quality Assurance Services, Cloud Computing and IT Infrastructure Management to organizations in the Banking & Finance, Insurance, Healthcare, Manufacturing, Retail, Media & Entertainment, Leisure & Travel, Telecom and Energy & Utilities verticals as well as Independent Software Vendors.