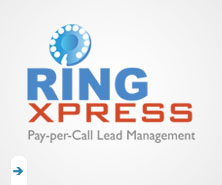 Unlike traditional leads, managing voice leads are tricky since one cannot track the source. Marketers often use 3rd party telephony technology providers, such as IfByPhone and VOiP, which makes it easy to track voice leads. RingXpress™ platform enables user to integrate and track the voice calls and inbound leads from all VOiP providers. It also integrates seamlessly with CRM applications for lead management.
RingXpress™ enables you to track every voice lead you generate in real time. Because your leads are tracked with all details, you can now use all media types to generate leads – online or offline. Real-time reporting allows you to track your earnings in complete detail so you can optimize ROI and easily build on your best campaigns.
RingXpress™ salient features:
Pay-per-call lead management
Easy to integrate with 3rd party VOIP service providers
Easy to track voice leads
Ability to assign the leads captured
Automate every process of capturing and brokering leads
Flexible for any business vertical
Scalable to process millions of leads per day
Create adjustments for discrepancies
Drill down transactional reporting
Drill down cost/profit analysis.
Transactional level data management
Real-time lead validation (scrubbing) to ensure best quality
Real-time data delivery
Custom email auto responder(s)
Allow merchants to update their payouts by transaction
Unlimited merchant accounts export leads
Easy data extraction
You can Contact Us or Request for a Quote .