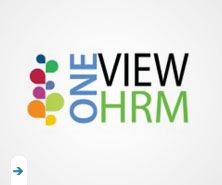 We all understand the importance of employees' satisfaction to any company's success. There has been significant effort in all companies today to implement the effective management of human resources. It is a strategic priority, not an administrative cost. In fact, the HR department's goal at leading companies is to maximize the productivity and return on investment made in each employee, not just to shuffle paperwork and cut costs.
OneView HRM empowers your company to analyze trends, track histories, and make informed HR management decisions. OneView HRM streamlines and adds value to every stage of the HR lifecycle, from recruitment to termination, and every stage, process and event in between. The product also maximizes your strategic potential by allowing management to directly access to updated, relevant and accurate information on any combination of employees and locations.
Modules Details
Admin Module Features:
Define Company Info (General Information' Company Structure' Locations)
Define Job information (Job titles' Pay Grades' Employment Statuses' EEO Job Categories)
Define Qualification Information (Education, Licenses)
Define Skills (Skills' Languages)
Define Memberships and Membership types
Define Nationalities
Define Users
Search and Advanced Search
Configure and subscribe for E-mail Notifications
Website Job Application mapping to HRM
Intelligent Workflow & Business Process Automation
Timesheet and Report CSV extractor
You can easily extract data to Excel or a text file with this Add-On. Data format will be CSV
View all leave details of employees in a calender view.
You can easily extract data from the leave module to Excel or PDF. Data format will be CSV.
Web-Based Forms
Personal Information Module Features:
Personal information (Date of birth, nationality, ethnic etc.)
Color picture
Contact details
Emergency Contact(s)
Dependent & Beneficiary
Immigration details (Passport & Visa info)
Job information
Payment details (Pay Grade & Salary)
Employee reporting structure (Assign Supervisor)
Work Experience
Education details
Skills
Assign Languages
Assign Licenses
Assign Memberships
Attachments
Define employee id (which was previously auto generated)
Display more employee details in the employee list
Search with more fields
Accomplishments (Education, Language, Memberships, etc.)
Compensation Module Features
Compensation
Salary Plan
Salary Grades
Variable Compensation
Stocks
Stocks (Grants, Exercise, Release, etc.
Training Module Features
Schedule a Training
Training Attendance
Training Feedback
Request a Training
Workforce Development Plan
Enterprise Learning
Training Profiles
Courses
Sessions
Instructors
Course Evaluations
Employee Self Service
Booking Conference Hall
Booking Interview Hall
Request for System Related Issues
Report Module
Management Reports
Employees Timesheet
Attendance Report
Leave Module Features
Define Leave Types
View Leave Summary of all employees in one screen
Define Days-off (weekends and specific holidays)
Apply for and assign continuous leave
Receive auto notification e-mails after performing leave related operations
Time and Attendance Module Features
Define organization's customers and projects
Create timesheets
Define Days-off (weekends and specific holidays)
Administration and management of your own and your subordinate's timesheets
Absence & Vacations
Absence History
Benefit Module Features
Define Program
Benefit Program Payments Due
Benefit Program Expenditure
Benefit Program Request
Recruitment Module Features
Comprehensive solution for the entire recruitment process' including requests for staff' approval of vacancies' entering requirements' capturing candidates information' short-listing' interview notes and other features. The module also allows HR professionals to generate templates and documentation to streamline the whole recruitment process.
Performance Module Features
Another natural attachment to OneViewHRM. While simplifying the performance review process you can communicate the key performance indicators for each job title allowing the employees to understand and achieve your expectations.
Appraisals
You can Contact Us or Request for a Quote .