Ray Business Technologies at 27th Annual Innovation Summit & Awards 2019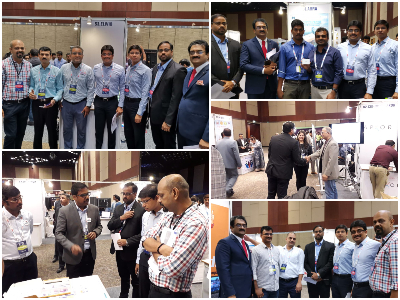 The 27th Annual Innovation Summit & Awards 2019 were held at HICC, Hyderabad, on 1 August 2019. The day-long event featured thought leaders and top technology executives representing core technology offerings, who gathered to further boost cooperation among the technology firms. HYSEA is an umbrella organization of software technology firms based out of Hyderabad and governed under the auspices of Public Societies Registration Act.
With a focus on niche capabilities and brainstorming by domain experts in the quest for growth, the HYSEA summit helped achieve partners and attendees take the right approach in adopting new technologies and powering digital transformation. HYSEA deliberated on ways of finding the right cultural fit and cumulative skills among resources to stay in the path of growth and survive challenges from rivals and competitors. HYSEA summit also showcased some exciting and brilliant ideas in terms of leveraging technology for future growth. A report that depicted Hyderabad as a global technology destination was unveiled at the summit.
Raybiztech is delighted to be part of the HYSEA Annual Innovation Summit, and share ideas with representatives and dignitaries from various technology firms. Managing Director Ajay Ray witnessed the event and featured in the jury that picked winners of the industry awards given out by HYSEA. The awards are meant to honor ideas and efforts of enthusiastic and tech-savvy startups that showcased their products or offerings at the Expo.
A day-long marathon meet had much to offer in terms of exchanging novel ideas that help set new highs for innovation and break the barriers of competition. An exclusive Conference featured the participation of well-known and independent technology wizards and consultants representing some 'NextGen' technologies in terms of making an impact and bringing disruption across the business landscape. An exclusive Products Showcase allowed budding entrepreneurs and innovators to showcase their capabilities and win awards under various categories, such as the most innovative product firm.
About Raybiztech
Raybiztech is a leading global Information Technology (IT) Services and Solutions, a CMMI Level 3, ISO 27001:2013 and ISO 9001:2015 Certified Company. We are a Member of NASSCOM, HYSEA, NJTC, and AIIA. The company offers comprehensive end-to-end IT Services for Business Application Development, Enterprise Solutions, Enterprise Collaboration Services, Testing and Quality Assurance Services, Cloud Computing and IT Infrastructure Management to organizations in the Banking & Finance, Insurance, Healthcare, Manufacturing, Retail, Media & Entertainment, Leisure & Travel, Telecom and Energy & Utilities verticals as well as Independent Software Vendors.