Interactive technical Q&A session with technology leaders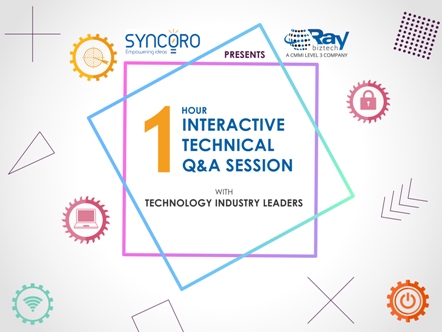 Knowledge transfer is one of the crucial forms of sustained learning that has the potential to shape competitive technology startups. It is vital to acquire strategic and tactical knowhow in sync with current factors shaping market conditions. The current IT and business landscape calls for startup entrepreneurs and budding technology managers to keep themselves abreast of newest trends and platforms. They must be well aware of extent and scope of automation offered by individual vendors.

With vast domain knowledge and a passion to share from their real-time experiences, our top-notch leadership is proud to address Facebook LIVE 'Q&A' Technical Session to resolve some challenging queries posed by individuals from leading startups as well as technology enthusiasts. The hour-long interactive session also sheds light on various techno-commercial indicators in line with the prevailing market conditions.

Log-in every alternate Wednesday at 3:00 PM IST to get instant response to your e-commerce platforms, cloud initiatives, licensing, open source, and even rapidly emerging applications such as Data Science. The session is FREE of charge and will set the course of action for contemporary startups towards a path of growth and sustenance.

Facebook Page: www.facebook.com/raybiztech

Time: 3:00 PM - 4:00 PM (IST)

Day: Every Alternate Wednesday

Here is the 1st Interactive Technical Session streamed on 5-December-2018.
About Syncoro
Syncoro has been assisting startups and passionate entrepreneurs with value-driven technology consulting and domain-specific support. With our diligent knowhow in advising startups about the most ideal way and choice of embracing technology across their growth curve, we ultimately help startups achieve maximum returns from the basic volume of investment. Syncoro also helps a new market entrant in maneuvering licensing issues, copyright norms, and regulatory frameworks.
About Raybiztech
Raybiztech is a CMMI Level 3, ISO 27001:2015 and ISO 9001:2008 Certified Company and the member of NASSCOM, HYSEA, NJTC, and AIIA providing wide-ranging end-to-end IT Services for Business Enterprise Solutions, IT Infrastructure Management, Cloud Computing, Application Development, Quality Assurance & Testing services, Big Data, Enterprise Collaboration Services, Embedded Systems, Health Care, and Banking & Finance services for companies in various sectors.