Ray Business Technologies at Microsoft Inspire 2019 in Las Vegas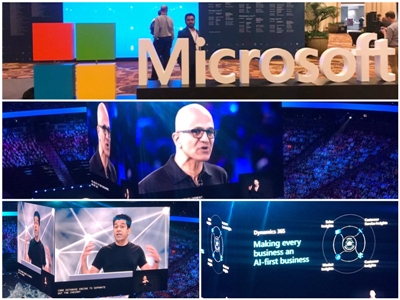 Raybiztech proudly featured at the Microsoft 2019 Inspire event from 14-18 July, 2019, in Las Vegas. The event served as a platform for improved collaboration between Microsoft partner network firms, and helped provide greater insights into key offerings around the most innovative cloud and ERP offerings from Microsoft.

Special sessions were held as part of the Corenote programs spread over two different days, along with exclusive workshops for the first-time attendees. Raybiztech was delighted to be a part of Microsoft Inspire 2019 as it experienced first-hand presentations on various platforms and emerging technologies rolled out by Microsoft at the flagship event. Top executives and leaders from Microsoft addressed an enthusiastic audience of attendees eager to explore the depth of emerging technologies and offerings.

The Microsoft Inspire and Microsoft Ready line-up of collaborative sessions offered an insider access needed to gauge and feel the pulse of innovation, as the technology giant builds a roadmap for the technology-driven business transformation powered by agile enterprise solutions, cloud-based computing, along with powerful collaboration and data-driven tools for decision-making.

The Inspire 2019 event at Las Vegas encouraged domain experts to share knowledge and path-breaking experiences with the audience. Being a Gold Partner for Microsoft, Raybiztech had the privilege to connect with esteemed clients and exchange innovative ideas with top executives from some of the Fortune 500 companies. The four-day Inspire 2019 event offered some exciting learning opportunities with exclusive slots for The Hub Preview and Area Celebrations.

The sessions shed light on leveraging Microsoft capabilities towards focused customer service, greater business agility, and boost information management prowess. It offered scope for building relationships with fellow partners and field executives, thereby offering access to key insights based on first-hand experiences and real-time success stories.
About Raybiztech
Raybiztech is a leading global Information Technology (IT) Services and Solutions provider, CMMI Level 3, ISO 27001:2013 and ISO 9001:2015 Certified Company. Raybiztech offers comprehensive end-to-end IT Services for Business Application Development, Enterprise Solutions, Enterprise Collaboration Services, Testing and Quality Assurance Services, Cloud Computing and IT Infrastructure Management to organizations in the Banking & Finance, Insurance, Healthcare, Manufacturing, Retail, Media & Entertainment, Leisure & Travel, Telecom and Energy & Utilities verticals as well as Independent Software Vendors.