Ray Business Technologies at NASSCOM Product Conclave 2019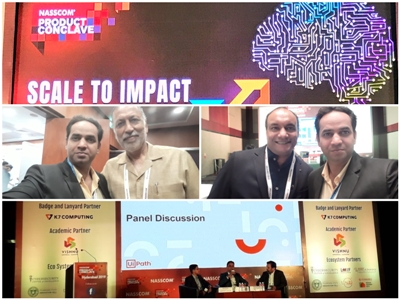 The NASSCOM Product Conclave was successfully organized on 12 July 2019 at HICC Novotel Hyderabad. The occasion served as an opportunity to share and express ideas, bringing together key technology managers, thought leaders, and entrepreneurs from some of the industry's big names as well as mid-size firms eyeing steady growth opportunities. The day-long event involved rigorous sessions and panel discussions from innovators sharing their side of the success story with learners and eager. The NASSCOM community organized the event with sheer passion, renewing the spirit of entrepreneurship on a larger scale and broader spectrum.

Raybiztech was proud to have attended the conclave and made an impact in terms of boosting visibility and enriching brand perception among the existing clients as well as potential customers. The agenda of the meet focused on ingredients, resources, and technical prowess to achieve success by scaling up and making an impact. The leaders share inspiring stories though a series of panel discussions and workshops on bringing technology disruption into a number of key service areas and business verticals.

We had an opportunity to interact with several esteemed industry leaders and top executives from renowned market players, as part of our efforts in understanding and fine-tuning our expertise to the needs of the dynamic technology landscape. We are happy to strategize and network withthe attendees at the conclave, with an aim to build and develop effective partnerships to fulfill business objectives.
About Raybiztech
Raybiztech is a CMMI Level 3, ISO 27001:2013 and ISO 9001:2015 Certified Company and the member of NASSCOM, HYSEA, NJTC, and AIIA providing wide-ranging end-to-end IT Services for Business Enterprise Solutions, IT Infrastructure Management, Cloud Computing, Application Development, Quality Assurance & Testing services, Big Data, Enterprise Collaboration Services, Embedded Systems, Health Care, and Banking & Finance services for companies in various sectors.