As a part of its CSR initiative, Ray Business Technologies distributed blankets to the needy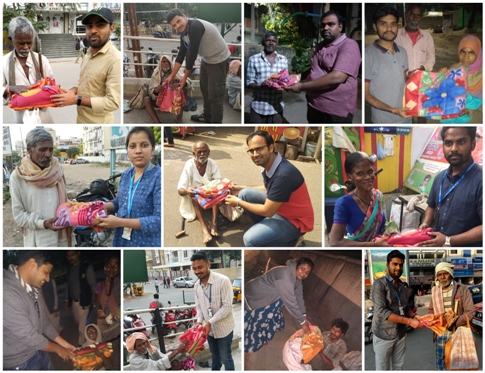 Raybiztech has been active in its Corporate Social Responsibility (CSR) goals right from inception. As part of untiring efforts towards fulfilling the special needs of the section of the population, we have taken an initiative to distribute blankets among the poor for FREE to help them keep warm throughout the cold winter.

As the mercury dropped sharply to bring in some biting experiences of this winter, our volunteers spread across the length and breadth of town to spot the needy ones and gift them a precious token of warmth. The Raybiztech initiative was met with huge appreciation, and other corporate houses also expressed their desire to join the campaign.

Raybiztech employees responded with enthusiasm to serve the noble cause, by offering blankets to the needy ones in and around the city of Hyderabad. This brought smiles on the faces of the poor, including the children and the elderly; who responded with thankfulness and gratitude towards marvelous efforts by Raybiztech.

The CSR initiative lasted almost a week to enable our workforce plan and execute the distribution campaign with maximum effectiveness and efficiency. Our current campaign comes as part of our continuous resolve to serve the section of the society which falls below the poverty line.
About Raybiztech
Raybiztech has a unique and proven expertise in deploying technology-centered solutions for clients across the globe by leveraging the well-defined processes and methodologies, along with seasoned top management that leads from the front to achieve successive milestones. The top leadership also strives to fulfill its commitment to give back to society with well-defined CSR goals.