Ray Business Technologies conducts CSR campaign to donate Essential Items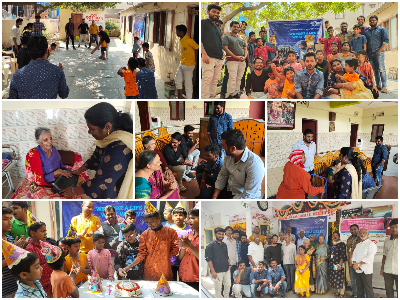 As part of its efforts to bring smiles to the needy and bring cheers to orphans and old-age people in the society, Raybiztech has spearheaded a campaign to donate essential items that fulfill their needs and bring substantial delight. Our associates passionately came forward in terms of planning and execution of the campaign – and contribute whole-heartedly with required items and valuables for the needy ones.
The successful drive was conducted on 15 February 2020 at three designated centers –Shirdi Sai Old Age Home for senior citizens, Anuraag Human Services for the deprived sections, as well as the Chavadi Ashramam orphanage. The team donated items such as books, pens, Ceiling fans, blankets, plantation, oil, soaps and detergents, and more. The CSR team made its presence felt by spending quality time with kids and elderly - listening to stories about their past journeys and the conditions which shaped those lives.
With support from able and dynamic leadership, Raybiztech associates put up a brilliant display of team effort and resolve to conduct a successful CSR campaign. Our visit to the orphanage brought cheers to innocent children who were all the more delighted spending time and even interacting with the team. The visit also witnessed the birthday celebration of an orphan child, which brought cheers to everyone. The CSR team also engaged the kids in a game of cricket.
Raybiztech will continue to give back to society and inculcate a sense of standing up for the needy ones. Our teams are encouraged to respect and care for the down-trodden and needy sections of the society, along with support and sympathy they need – and efforts in that direction. Raybiztech is glad to share more such initiatives are lined up in due course.
About Raybiztech
Raybiztech is a leading global Information Technology (IT) Services and Solutions, a CMMI Level 3, ISO 27001:2013 and ISO 9001:2015 Certified Company. We are a Member of NASSCOM, HYSEA, NJTC, and AIIA. Raybiztech offers comprehensive end-to-end IT Services for Business Application Development, Enterprise Solutions, Enterprise Collaboration Services, Cloud Computing and IT Infrastructure Management to all organizations.