Ray Business Technologies CEO at Boomi World Tour Sydney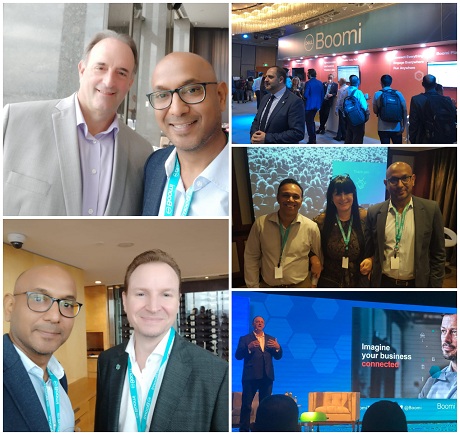 The Boomi World Tour happened on 18-19 March 2019 in Sydney, which aimed to bring together business leaders, technocrats, and passionate entrepreneurs. Raybiztech CEO Ajay Gupta attended the along the likes of top executives at the meet. With more enterprises looking forward to digital transformation, the two-day event featured a pool of technology specialists and thought leaders who collaborated on means to leverage the Boomi platform.
Over two days of the partner summit, attendees deliberated and shared paper presentations as well as slide shows that revealed new benchmarks and best practices.The agenda featured success stories by renowned Boomi ambassadors, crucial keynotes and addresses from technology speakers, and plenty of opportunities for networking and sharing feedback on Boomi performance indicators.
Raybiztech CEO had a fruitful interaction with Boomi CEO Chris McNabb and the CTO Michael J Morton at the sidelines of the summit. We hope to create a strong impact in offering seamless services around the Boomi platform. The two-day summit also revealed upcoming advancements in using hybrid integration as well as Block chain in collaboration with the Boomi platform.
The BoomiWorldTour2019 gave delegates an opportunity to explore new avenues in unified data intelligence, hybrid IT infrastructure, and other emerging tools and processes that can help enterprises unlock Boomi potential to scale up production, and offer an enhanced customer experience. The meet also featured an exclusive session on vision and roadmap titled "The Future is Here".
About Raybiztech
Raybiztech provides IT Solutions in the areas of Enterprise Resource Planning (ERP), Enterprise Portals and Content Management (EPCM), Customer Relationship Management (CRM), Enterprise Mobility and Cloud including Product Development and Life-Cycle Support. The firm has a track record in serving clients across Media and Entertainment, Retail, Manufacturing, Healthcare, Finance and Insurance, Telecom, Energy and Utilities.