Ray Business Technologies has won some loyal connections at Loyalty Expo 2018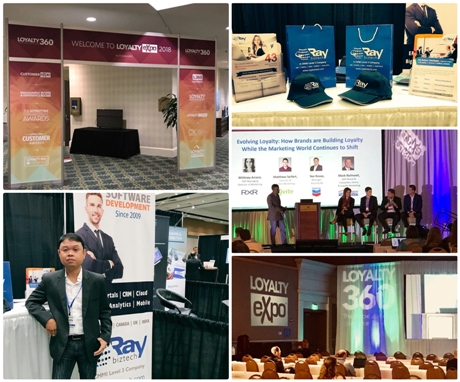 Ray Business Technologies, a Global Information Technology (IT) Services, and Solutions company recently took part in Loyalty Expo 2018, which is one of the industry's premier events, is a true Voice of the Customer-driven, best practice-focused customer loyalty and reward conference. The 2018 Loyalty Expo offered the knowledge essential to guide customers on the path to loyalty. The event was held at CARIBE ROYALE ORLANDO, FLORIDA from 15th-17th May 2018.Presented by Loyalty360 - Association for Customer Loyalty, Loyalty Expo has earned the reputation of being one of the industry's premier events, and we are extremely pleased to be able to participate in the event and be a part of it.

The 3-day event proved to be a fantastic opportunity for organizations to learn and network. There were be over 20 interactive sessions from speakers worldwide. On the last day, the event also had cocktail receptions and meals in the exhibit hall. New this year is Loyalty Expo expanded Marketer-Only Peer Roundtable Sessions and comprehensive B2B Marketing Track.

Raybiztech had booth #203 at the Loyalty Expo, where it had a great opportunity to highlight all its services to clients and other attendees visiting the Expo. The team made many loyal connections and expanded its present human network. Raybiztech was one of the Sponsors for the grand event.

This premiere loyalty event featured a robust line up of many of the freshest thinkers in marketing industry, featuring a behind the scenes look at the cutting-edge loyalty initiatives from industry leaders such as CarMax, Vans, Evite, Gannett Co, Inc, Perry Ellis International, Boxed, Global Hotel Alliance, Stellar Loyaltyand more.

Raybiztech had a wonderful experience at Loyalty Expo 2018 while having an exchange of knowledge and sharing some wonderful moments.
About Raybiztech
Founded in 2009, Ray Business Technologies Private Limited is a Global Information Technology (IT) Services and Solutions company. We are a CMMI Level 3, and ISO 9001:2015 & ISO 27001:2013 Certified company. Through our excellent team of Technology Professionals, we provide cutting-edge IT Solutions to Enterprises globally, empowering them to utilize available resources and manage their operations effectively by improving efficiency, optimizing services, securing information and reducing costs in North America, Australia, Canada, Europe, Middle East and Asia.