Mr. Prajnajit at NASSCOM SME Connect 2019 held at Hyderabad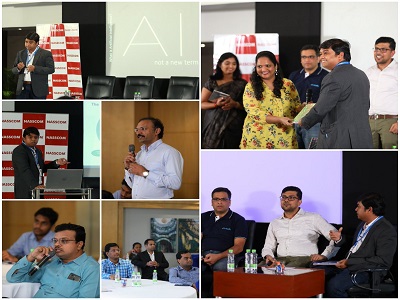 The NASSCOM SME Connect event concluded on 18 Oct 2019 at HICC, Hyderabad. The conclave themed 'The Next Frontier of AI' featured knowledge-sharing deliberations by experts in areas of AI, Machine Learning, and Deep Learning, across key industries and business verticals. The event offered an opportunity for Small and Medium Enterprises (SMEs) to listen to some of the most dynamic thought leaders and successful professionals from the specialized technology discipline.
Mr. Prajnajit Mohanty, Chief Data Scientist at Ray Business Technologies spoke in a crucial address to the convention and shared some path-breaking ideas to adopt and leverage machine learning tools in various facets and business processes. As part of his address around "AI Strategy for CXOs", Mr. Mohanty shared valuable takeaways from his exceptional track record and experiences in leading large teams across AI and Deep Learning projects. It centered on ways to enable SMEs to mitigate the risks involved when adopting an AI-driven strategy.
The SME Connect Session threw light on the scope of AI Learning and Deep Learning for bringing innovation across several industries. Expert talk and panel deliberations also helped the audience with new ideas to embrace AI to cement their growth strategy. The innovative learning models of the future will have the capacity to drive processes farther with powerful algorithms.
Delegates and attendees also collaborated on the current market buzz in adopting new technology. Entrepreneurs and thought leaders from various industry circles took cognizance of the session by Mr. Mohanty towards leveraging AI from the strategic business as well as the technical perspective. AI and Deep Learning will deliver together to help scale up businesses by automating routine tasks as well as inherent processes, with effective transformation roadmap.
About Raybiztech
Raybiztech is a leading global Information Technology (IT) Services and Solutions provider, CMMI Level 3, ISO 27001:2013 and ISO9001:2015 Certified Company. Raybiztech offers comprehensive end-to-end IT Services for Business Application Development, Enterprise Solutions, Enterprise Collaboration Services, Testing and Quality Assurance Services, Cloud Computing and IT Infrastructure Management to organizations in the Banking & Finance, Insurance, Healthcare, Manufacturing, Retail, Media & Entertainment, Leisure & Travel, Telecom and Energy & Utilities verticals as well as Independent Software Vendors.