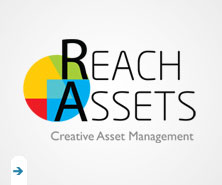 ReachAssets is a collaboration platform that enables marketing teams to work effectively with the creative teams. Geographically separated teams can take advantage of ReachAssets to manage the copy and creative design process using the ReachAssets platform. Using ReachAssets, client profile can be registered and campaigns can be created and managed. Designs and copy can be uploaded from any location. The copy and designs can be reviews and comments can be tracked. ReachAssets supports version control and workflow using which the copy and designs can be managed collaboratively saving time and efforts to coordinate costly meetings and travel schedules.
Visit ReachAssets Product site: www.reachassets.com
Key Business Impacts of ReachAssets Systems:
Streamline creative operations to meet critical deadlines.
Reduce errors and redundant tasks from misplacing files.
Increase accountability by tracking asset changes and uses.
Enhance creativity by reducing time spent on administrative tasks and manual processes.
Improve collaboration by gathering and tracking approvals.
Ensure the most recent and approved assets are available for general use.
With ReachAssets you can:
Create client account profiles
Ability to create and manage campaigns
Ability to upload multimedia documents including copy and designs
Supports multiple versions and revisions
Ability to add comments
Offers document management workflow
Improve productivity for marketing and creative teams
Visit ReachAssets Product site: www.reachassets.com
You can Contact Us or Request for a Quote .