Ray Business Technologies conducts CSR Campaign for Orphaned Kids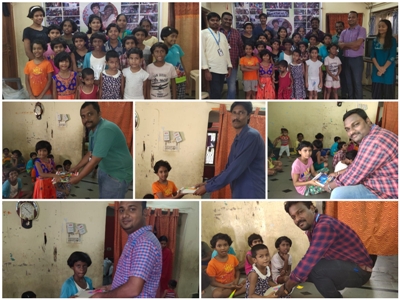 Our strong commitment to social responsibility makes us believe every child has a dream to pursue, irrespective of social and economic status. Since its inception, Raybiztech has fulfilled its responsibility to give back to the society with CSR campaigns for various causes. As an individual leading a normal life, it is sometimes required to pause and think about the conditions of orphaned kids and realize their hardships. In this direction, we distributed books and stationery items at an orphanage on the occasion of Gandhi Jayanthi.
Raybiztech has always outlined its CSR objectives towards serving the needy ones, and this campaign specifically aimed at socially deprived kids.We conducted a drive for distribution of books and other essential items such as cloaks at Jeevodaya Home for Children, under the auspices of SHEEP NGO. With enthusiastic and active participation by the members of our team, the campaign encouraged children to continue education and become skilled and qualified to make a living.
The campaign was successful and Raybiztech has been honored to fulfill the needs of aspiring young kids, and contribute actively in nurturing their ingrained talent.Having served the orphaned kids and enabled them to complete their schooling is an honor for us. We thereby ensured their status in society no longer remains a hassle in their all-round development and steady growth.
About Raybiztech
Ray Business Technologies Private Limited is a Global Information Technology (IT) Services and Solutions company. We are a CMMI Level 3 and ISO 9001:2015. Through our excellent team of Technology Professionals, we provide cutting-edge IT Solutions to Enterprises globally, empowering them to utilize available resources and manage their operations effectively by improving efficiency, optimizing services, securing information and reducing costs in North America, Australia, Canada, Middle East, and Asia.