NASSCOM SME Connect Session 2019 at Hyderabad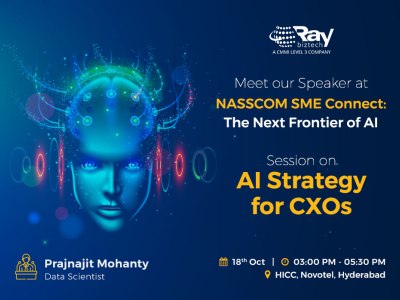 The ever-increasing scope of Machine Learning and Artificial Intelligence has allowed businesses to leverage their capabilities at various scales. The top leadership at various enterprises is poised to embrace AI in formulating their business strategy. The newest models can learn from large volumes of data by virtue of massive computational power.

The upcoming NASSCOM SME Connect Session is scheduled at Hyderabad on 18 Oct 2019 with the theme 'The Next Frontier of AI'. The meet will feature talks by thought leaders and experts in Artificial Intelligence, offering valuable support to entrepreneurs and executives from Small and Medium Enterprises (SMEs) to chart their AI strategy.

Eminent speakers include Prajnajit Mohanty, Chief Data Scientist at Ray Business Technologies. He will deliver a session on "AI Strategy for CXOs" to help incorporate machine learning and intelligent tools in making informed decisions. Mr. Mohanty carries an exceptional track record of leading crucial projects in Data Sciences, Machine Learning, and Deep Learning.

The summit will also include panel discussions involving senior industry leaders, who will engage the listeners with new frontiers and advancements in Deep Learning and Artificial Intelligence, along with relevant case studies from different business verticals and service areas.

Meet us at the NASSCOM SME Connect at HICC, Hyderabad, to discover the next big things in Artificial Intelligence and Machine Learning that are set to drive future industry growth.
About Raybiztech
Raybiztech is a leading global Information Technology (IT) Services and Solutions provider, CMMI Level 3, ISO 27001:2013 and ISO9001:2015 Certified Company. Raybiztech offers comprehensive end-to-end IT Services for Business Application Development, Enterprise Solutions, Enterprise Collaboration Services, Testing and Quality Assurance Services, Cloud Computing and IT Infrastructure Management to organizations in the Banking & Finance, Insurance, Healthcare, Manufacturing, Retail, Media & Entertainment, Leisure & Travel, Telecom and Energy & Utilities verticals as well as Independent Software Vendors.