RBT adds Link Button in Kentico marketplace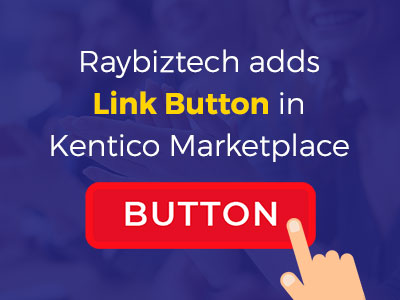 Raybiztech has successfully created an exclusive widget for displaying a hyperlink to a specific target URL. The exclusive Kentico CMS 'Link Button' widget, published in Kentico marketplace, enhances user experience and enables users to ender the link in the text format, with an option to move to the target URL specified, from the current Kentico location. The widget allows addition of button to the web page, with scope for the configuration of few specific attributes at the time of adding the button.

By virtue of the link button, our skilled developers have customized the Kentico template to enable user navigate to a different link. This can be used by installing the desired package to the Kentico 12 MVC site. Once the widget is functional, it allows redirect to an external link specified by the target URL. It is compatible with Kentico 12 MVC.

You can check out the Link Button widget in Kentico marketplace.
About Raybiztech
Raybiztech is a CMMI Level 3 IT Services provider. Apart from the accustomed ERP, Mobility, and CRM tools, we have expertise in innovative and upcoming technologies that include Cloud, Big Data, Artificial Intelligence, and Machine Learning. Raybiztech is proud to serve customers across several locations, with a team of resources that are capable of understanding client requirements from a diverse set of domains and verticals.
About Kentico
Kentico is a fully integrated ASP.NET CMS, eCommerce and Online Marketing platform that enables to create cutting-edge websites and optimizes digital customer experience across multiple channels. The Kentico 12 release in 2018 features an MVC Builder application for developing rich applications with minimal development and debugging efforts.