Ray Business Technologies expands in Asia-Pacific with Sydney office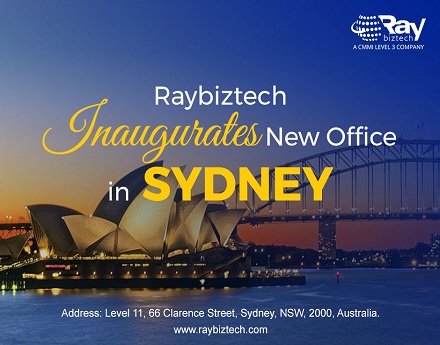 Raybiztech, a CMMI Level 3 technology services provider, has added a permanent location to ramp up its operations in Asia-Pacific. The new facility in Sydney will continue to offer cutting-edge solutions to clients backed up by sales and business development expertise with on-shore focus, in addition to entire back-office operations. As a step forward in building our competencies, the leadership has chalked out an ambitious growth strategy in the Asia-Pacific region.
The new location has begun operations with a team of motivated and professional executives under the leadership of experienced top leadership. The Australian office is strategically located in Sydney, which will surely play a strategic role in helping realize our commitments and goals aided by the convenient movement of clients as well as the workforce. With the addition of Sydney as one of our strategic locations, we have also added to our total headcount in the region.
Raybiztech is delighted to achieve this geographic milestone and add a feather in the cap, which goes a long way in responding to market challenges and going by the pulse of technology transformation and digital disruption across various lines of businesses. As a technology services provider, we have made continuous efforts to understand the requirements of clients spanning specific geographies.
Our team at Sydney is motivated about new and exciting projects that will drive Raybiztech's growth and expansion strategy across several domains and key sectors. We have also set a benchmark for fulfilling client requests within timelines and the desired SLAs. This will encompass our on-shore capabilities as well as close affinity in understanding and fulfilling key client needs with close proximity.
About Raybiztech
Raybiztech is a CMMI Level 3, ISO 27001:2013 and ISO 9001:2015 Certified Company and the member of NASSCOM, HYSEA, NJTC, and AIIA providing wide-ranging end-to-end IT Services for Business Enterprise Solutions, IT Infrastructure Management, Cloud Computing, Application Development, Quality Assurance & Testing services, Big Data, Enterprise Collaboration Services, Embedded Systems, Health Care, and Banking & Finance services for companies in various sectors.