Life at Raybiztech
We make every day special
We believe in well-balanced individuals who are ready to make a difference in many ways. We are not only great managers, developers, testers or editors, but also amazing artists, adventurers, musicians and dancers. Raybiztech's workspace is designed to promote productivity and harmony, where there is something for everyone. We always come up with new ways to engage people and spread happiness.
We always encourage our associates to share their ideas, voice their concern or ask questions. We create environment that encourage knowledge sharing, relationship building and team- based activities. We encourage and support our associates in volunteering and taking part in corporate social responsibility activities.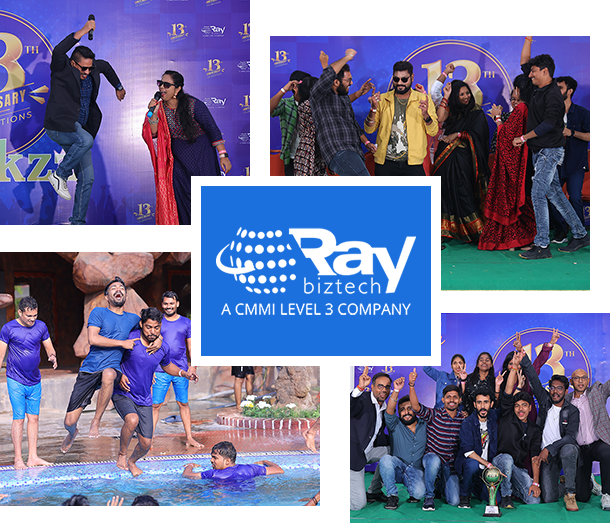 Rewards and Recognition
Raybiztech recognizes and rewards associates who have delivered excellent performance or demonstrated accomplishment in leadership, teamwork or individually.
Celebrating The Annual Day
Celebrating the annual day event is an excellent way of enriching the bonds that the organization shares with associates. Ray Business Technologies welcomed Associates and clients aboard on a single platform to celebrate our achievements on 13th anniversary day event. 
ANNUAL AWARDS
Every year, Raybiztech hosts an Annual Award ceremony where a number of awards are presented. This award ceremony is held every year to recognize and reward those associates, who have made unparalleled contribution towards the success of the organization.
SERVICE AWARD FELICITATION
Service Award Felicitation is to reward those associates, who have dedicated more than five years of continuous service to Raybiztech. The associate will receive a certificate of service and a gift voucher of INR 25,000 as a mark of their outstanding loyalty and to go beyond the call of duty.
PROJECT BONUS
Raybiztech recognizes the efforts of its associates, and felicitates individuals and teams excelling across multiple assignments. The company declares a bonus upon successful completion of project and accomplishment of client satisfaction.
RAY BUSINESS TECHNOLOGIES EMPLOYEE TESTIMONIALS
Benefits at Ray Business Technologies