Ray Business Technologies & Kentico teamed up for "Project 24" - World Water Day 2018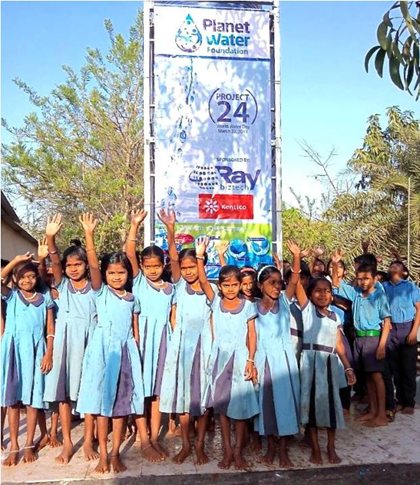 Murbad, Thane, India - March 22, 2018. Ray Business Technologies, the leading IT Services and Solutions provider joined hands with Kentico, yet another year for a humanitarian cause "Save Water," on this World Water Day 2018. Raybiztech is proud to be associated with Planet Water's Project 24, a project to supply drinking water to over 24,000 people, especially children, in 5 Countries on a single day, within 24-hours on March 22, 2018.

Project 24 was started 4 years ago by Planet Water Foundation to serve as a basic design - where a group of leading global brands and citizens would unite on "World Water Day" to raise consciousness of the global water crisis - help to deliver clean, safe drinking water, to maintain water-health and increase water hygiene education in 24 communities - in 24 hours.

Murbad is a small village located 100 KM away from the city of Thane. It has a school named as Murbad Primary School, which is located on a large piece of land with students from nearby localities. Although the school has a decent student population, the children and staff are deprived of safe & healthy drinking water. The local villagers use bore well water for farming and to perform daily activities. Open defecation also increases the risk of water contamination and parents either are too busy or have little knowledge about hygiene measures and are unable to teach their children about the same. 50% of hospital cases are just due to consumption of contaminated water. Summers are very tough for these villagers as the water level goes down and there is shortage of water in the entire village. Thus, Planet Water Foundation's hygiene education programs together with AquaTower supplied by Kentico and Raybiztech will make significant improvements in villages like Murbad. This AquaTower will provide safe, clean drinking water to 700 school children.

The goal is to educate each one about the importance of "Saving water, having safe drinking water" all round the year. All the members of the project 24 believe in providing clean water to a community, especially children, reducing the total number of water-related illnesses globally.

Raybiztech is a Kentico Gold Partner and has a well-built Kentico development team working with top enterprises globally. "We are delighted to be associated with Project 24 since 4 years and collaborating with Kentico for the same is a proud moment for us at Raybiztech. We believe in giving back to the society," says Ajay Ray, Founder & Managing Director at Raybiztech.
About Kentico
Kentico CMS is an integrated ASP.NET, Online Marketing and e-commerce platform that enables enterprises to create advanced websites and optimize their digital customers' experiences across various channels.
About Raybiztech
Raybiztech is a CMMI Level 3, ISO 27001:2013 and ISO 9001:2008 Certified Company and the member of NASSCOM, HYSEA, NJTC, and AIIA providing wide-ranging end-to-end IT Services for Business Enterprise Solutions, IT Infrastructure Management, Cloud Computing, Application Development, Quality Assurance & Testing services, Big Data, Enterprise Collaboration Services, Embedded Systems, Health Care, and Banking & Finance services for companies in various sectors.