RBT Campus Drive at Avanthi Engineering College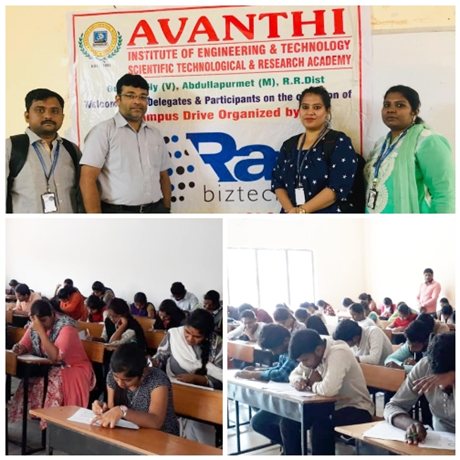 Hyderabad, India. March 09th 2019. Raybiztech pursues a people-driven strategy across the facets of human resources cycle including training, development, and the right career-orientation. We aim at tapping the potential of young minds with their novel ways of solving a problem and a smart approach in applying technology with keen attention to detail.

Raybiztech has conducted a successful campus drive at Avanthi Group of engineering colleges. Our technical panel accompanied the human resources team at the campus to evaluate and select bright candidates who deserved starting their career right after the completion of academic studies. With a vision to consistent growth, Raybiztech is fast positioning itself as a player in Big Data, Cloud Technologies, Data Sciences, Artificial Intelligence, and Robotics.

The panel introduced Raybiztech as a technology and services firm with a focus on timely delivery of projects and customer-centric approach, along with the benchmarks for excellence in our processes and methodologies. The audience was also communicated about our foot-print and presence across strategic global locations and potential of on-site resources; as Raybiztech follows the best alternative among on-shore and hybrid models.
The candidates will be working from Hyderabad branch, and sharpen their skills in select technologies.

Raybiztech has chalked out an extensive program that the selected college graduates will undergo, thereby increasing their confidence level and problem-solving ability. The candidates will be mentored on customer service and the ability to communicate and conduct with clients and stakeholders in a dynamic business environment.
About Raybiztech
Raybiztech provides IT Solutions in the areas of Enterprise Resource Planning (ERP), Enterprise Portals and Content Management (EPCM), Customer Relationship Management (CRM), Enterprise Mobility and Cloud including Product Development and Life-Cycle Support. The firm has a track record in serving clients across Media and Entertainment, Retail, Manufacturing, Healthcare, Finance and Insurance, Telecom, Energy and Utilities.