RBT conducted a webinar on Boomi - Runtime Options,15th December 2021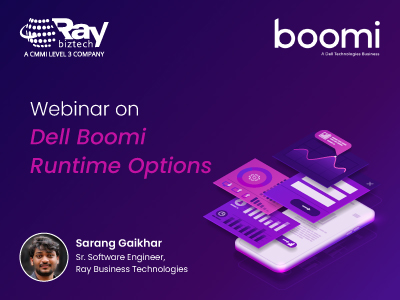 Ray Business Technologies, a Boomi Integration Partner conducted a webinar on "Boomi - Runtime Options",15th December 2021.
In this webinar, Speaker Sarang Gaikhar talked about Boomi-Runtime options.
Here are the points he discussed in the Webinar:
Runtime options – Atom, Molecule and Atom Cloud
Infrastructure options
Possible issues and troubleshooting steps
Best practices/recommendations
Highlights from the Webinar
Runtime Categories
Customer Hosted : On-Prem vs Cloud
Runtime Features
Network Requirements
Sizing and Scaling : Storage
Timeline for Setup
Speaker Details:
Sarang Gaikhar
Senior Software Engineer
Ray Business Technologies

Click here to view recording of the Webinar: https://youtu.be/X4ZILeMt4x8
About Ray Business Technologies
Ray Business Technologies is a Boomi Integration Partner, with expertise in Development, Integration, and Implementation of Boomi for Clients Globally. Ray Business Technologies is a CMMI Level 3 company with over 12 years of Global Business & Technology Leadership, operating from USA, Canada, Australia & India.