RBT Associates are Back to Office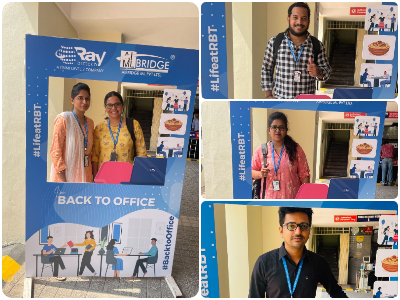 The COVID-19 pandemic has thrown our life and work into a mess. Countries have imposed lockdown, and the offices have shifted to our homes, rooms, and kitchen tables. Employers have been prompted to adjust and change the office rules due to necessity. Office life as we know it is unlikely to return to normalcy anytime soon. As the nations are People are recovering the capacity to return to work now that governments are gradually reopening their countries.
We at Ray Business Technologies have introduced hybrid model for all the associates giving them the flexibility either to work from office or from home. Most of our associates are back to office with full of energy and excitement as they get a chance to meet their team members, colleagues and also have team lunches, fun activities on the weekends and many more which they have been missing for a long time now. Moreover, connecting with co-workers and having face-to-face interactions are exciting and beneficial for increasing productivity.
The RBT Back to Office program will enable us to create a complete plan for sequencing and aligning a strong strategy for employees return to work. We offer a comprehensive framework and actionable solutions to help businesses make their workplaces safer and more resilient for their employees. We're doing it by rethinking workplace, including learnings from health experts, and incorporating next-generation technologies to enable preventive measures, protective solutions, and reliable communication channels, all while following to data privacy laws and practices.