Ray Business Technologies Proudly Associated with Kentico 404 Conference in Las Vegas, USA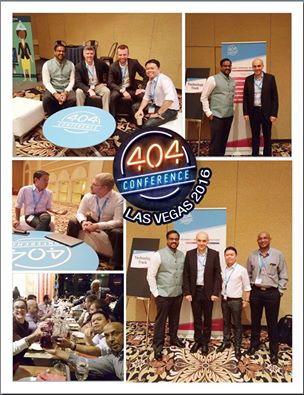 Nov 2-4, 2016. Las Vegas, USA. The red carpet was rolled out in Las Vegas, USA, as Raybiztech was one of the sponsor of Kentico 404 Conference. This Digital Marketing conference was something different this fall, as it had the facts to unveil the agonizing side of success. Kentico 404 was an elegant event and a pioneering platform where all the digital marketers, business executives and web developers got an opportunity to hook up and speak about the hurdles in digital marketing and discuss misconceptions for being more strategic and effective marketers and developers.
The first day of the conference boomed with a grand Kentico 10 release and introduction to Kentico CMS Cloud. And then we got to hear from the marketing superheroes, who revealed the blood, sweat and tears behind their success. Petr Palas, Founder and CEO of Kentico said "We wanted to do something unwonted. There are a lot of events out there with lots of variations on a theme. 404 is very different. We are coming at this from the dark side by not looking at the best we have been able to accomplish, but dissecting some of the missteps and see what we can learn from those mistakes".

Iva Konecna, Event Manager at Kentico, added "404 is all about being honest and coming out of our comfort zones. That is where some truly important innovation and learning can happen."
From Website Design to Customer Personalization
The 404 conference embraced the marketers and developers alike and explored topics, including, landing page design, email campaigns and customer personalization. The conference featured 30+ technology and business track sessions. Many Thought Leaders, Digital Marketers and Industry Experts from across the world spoke during this event that include Scott Stratten, President at Unmarketing (CA), Scott Liewehr, Co-founder and CEO at Digital Clarity Group (US), Philip Japikse, Principle Consultant at SDS, Ben Hall, Founder at Ocelot Uproar (UK).

Mr. Ajay Ray, MD, Mr.Ajay Gupta, COO and Eugene Paden, Technology Director of Raybiztech met Kentico Founder and CEO Petr Palas and other partners team including Burns Marketing and BlueModus from USA.

The three-day Digital Marketing conference trembled things up this fall, as it gave insights into the trials and afflictions experienced by digital marketers. Furthermore, the 404 conference focused on real-life case studies and inspirational talks, which educated the Raybiztech team on the latest trends and also enabled to mingle with clients and like-minded partners from the community.
About Raybiztech
Raybiztech is a leading IT Services and Solutions company providing top-notch IT solutions to enterprises all over the world. Some of the services offered by Raybiztech include Enterprise Solutions, IT services, Testing and Quality Assurance services, IT Infrastructure Management and Cloud Computing to companies in diverse verticals.

#404conference #Kentico #Kenticocloud #Raybiztech