Ray Business Technologies attends Connect Expo 2016 at Melbourne, Australia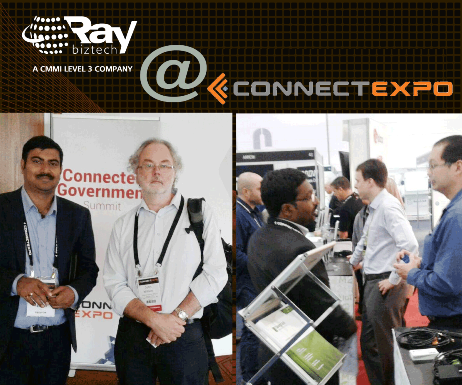 April 19, 2016. Melbourne, Australia. Raybiztech, a prominent IT Services and Solutions provider, recently attended Connect Expo 2016, which is Australia's fastest growing business technology event. It comprises an immense trade show with themed technology zones blended with a multi-streamed conference program.

The Connect Expo 2016 was a two-day event of technology, networking, innovation and business opportunities. 20 parallel summits, several learning spaces, a large trade show and a lot of networking was designed for the ones, who were interested in how disruption is remodeling business and lives. Pertinently named 'Connect' the event brought together the entire ecosystem by linking people, businesses, technologies, industries, entrepreneurs, ideas, investors and much more. Exhibitors and sponsors got the best of both the worlds, including positioning, all the thought leadership and relationship building opportunities acquired from a tailored niche summit.

The speakers of Connect Expo 2016 included Bob Flores, Co-Founder of Cognito, Stephen Mellor, Chief Technical Officer, Industrial Internet Consortium, David Sykes, Director of Sophos, Ronny Fehling, VP Head of Data Driven Technologies & Advanced Analytics CoC, Airbus Group.

Raybiztech team managed to catch up with industry leaders, start up innovators, government policy strategists, and solution providers, which enabled them to gain useful insights on business technologies.
About Raybiztech
Raybiztech is a prominent IT Services and Solutions Organization providing superlative IT solutions to enterprises across the world. We are now leading the way to power the next generation enterprises with Big Data, Cloud, Mobility and Social Media Solutions. Raybiztech provides end-to-end Business Application Development, IT services, Enterprise Solutions, Quality Assurance and Testing Services, Enterprise Collaboration Services, Cloud Computing and IT Infrastructure Management to organizations to diversified verticals.

#ConnectAU #BobFlores #Raybiztech

The Connect Expo 2017, a two day event of technology networking, innovation and business will be held on 29th-30th March in Melbourne Convention & Exhibition centre, Melbourne, Australia.
To get registered for this event visit http://connectexpo.com.au/