Kentico Xperience Connection 2022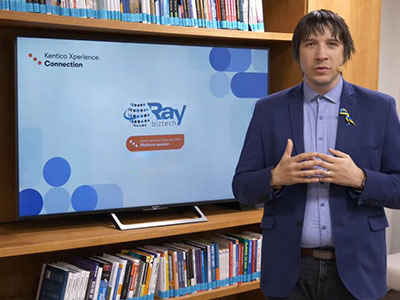 Ray Business Technologies is the Platinum Sponsor of Kentico Xperience Connection 2022, North America. The Kentico Connection conference this year offered three distinct virtual sessions for the three major worldwide regions: APAC (March 16th-17th), EMEA (March 22nd-23rd), and North America (March 23rd-24th). Every year, members of the Kentico Xperience community get together to connect in Kentico Connection event for Latest Insights, Market Trends, and Product News from the Kentico Experts.
The two-day Kentico Xperience Connection 2022 event for marketers and developers began with a keynote presentation titled "The Future of Xperience is Now" by Kentico Xperience Managing Director Dominik Pinter. Kentico Xperience Team shared the latest insights, market trends, and product news. Several live demos of the latest and best Kentico offerings were held during the event, as well as various Q&A sessions led by members of the product team. Members of the Kentico team has also showcased their unified DXP, which they claim is the next generation of the traditional content management system (CMS) platform.
Mr. Eugene Paden, CTO, Ray Business Technologies was part of the Panel Discussion on "Digital Experience Maturity" during the North America event. Mr. Eugene Paden has shared his customer experience and digital transformation experiences. He also spoke about the necessity of establishing a vision for any company and how to approach digital experience maturity.
Ray Business Technologies is a Kentico Gold Partner since 2010 and has the largest team of Kentico Certified Developers in the world among other Kentico Partners. We work with you as a technology Partner in constructing a solution that allows you to optimize your Business.
Please reach out to us at [email protected] to know more about Kentico Xperience and RBT's Kentico Xperience expertise.