Ray Business Technologies' Project has Won the Kentico Site of the Month Award for May 2022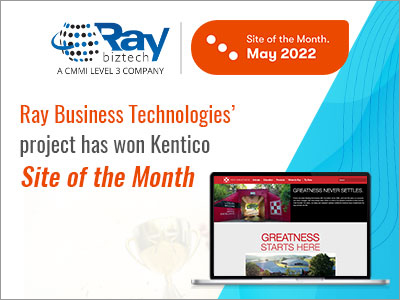 As a Kentico Xperience Gold Partner, we are delighted and proud to announce that one of our projects has been named 'Site of the Month' for May 2022.
Client: USA's Largest Animal Feed Product Manufacturer
Our client is one of the largest manufacturer of animal feed products in the United States. It is producing more than five million tons of feed each year. Through its 50 plus feed mills, the company produces thousands of feed formulations specially designed for various types of animals, including beef and dairy cattle, goats, horses, sheep, pigs, poultry, pets and lab and zoo animals.
This project was developed in Kentico 12 MVC to leverage the content management features like Widgets, Page Templates and Common Widgets. Advantage of using Kentico content management system is to enable the content update functionality by users with ease without rebuilding the entire application. Application is deployed in Azure DevOps to leverage the advanced features like CI/CD and key vault.
Highlights of the Project
Website Architecture
Responsive Website
Custom Development
Landing Page Design & Development
Benefits of the Project
The new website comes with a rich responsive design that works across all mobile devices and desktops.
The new website has enabled the client to manage its marketing and to fine tune content and functionality to train and educate on animal feeds and better dealer and user engagement.
The new website built with Kentico, provides great user experience to get information on various animal feed products and connect with talented group of Ph.D. nutritionists and veterinarians.