Kentico Site of the Month Award: A Celebratory Moment for October 2023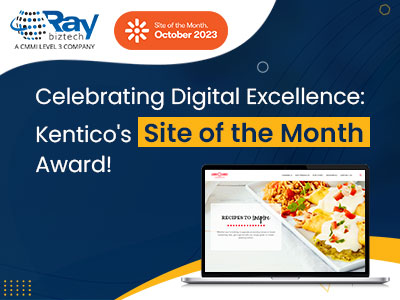 We are overjoyed to share the exciting news that the food service industry project, masterfully implemented by Ray Business Technologies, has clinched the esteemed Kentico Site of the Month Award for October 2023!
Unveiling the Food Service Platform
Designed with precision and user-centricity, the Food Service platform is a dedicated space for food service professionals, including chefs, restaurant owners, and food service operators. It serves as a rich repository of information, detailing client's products and solutions that are specifically tailored to meet the intricate needs of the food service industry.
Elevating User Experience with Kentico
Client envisioned a transformative upgrade for their existing food service application, aiming to significantly enhance the overall user experience. Leveraging the powerful capabilities of Kentico, Ray Business Technologies was able to rapidly develop and deploy a solution that not only aligns with but surpasses the expectations of its users.
Sector Spotlight: Retail
Operating within the dynamic retail sector, the Client's Food Service platform stands as a shining example of digital innovation and user experience excellence.
A Milestone of Excellence
This prestigious award stands as a testament to our unwavering dedication to delivering unparalleled digital experiences. The synergistic partnership between Client and Ray Business Technologies, fueled by the robust functionalities of Kentico, has culminated in the creation of a platform that truly distinguishes itself in the digital realm.
We are immensely proud of this achievement and are inspired to continue our journey of innovation, striving for excellence in every digital solution we bring to life. Stay connected with us for more updates, stories of innovation, and glimpses into our journey of transforming the digital landscape.
.