Big News for Kentico Users: Ray Business Technologies Launches First-Ever Kentico Content Generation Plugin!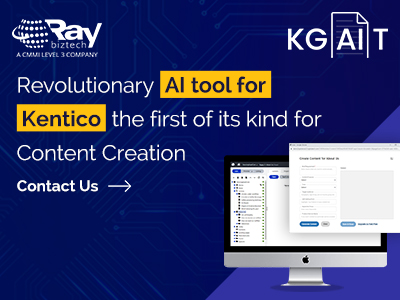 Ray Business Technologies Unveils a Groundbreaking Kentico Plugin for Content Generation
In a monumental stride towards enhancing content creation within the Kentico CMS, Ray Business Technologies is thrilled to announce the launch of its innovative Kentico Content Generation Plugin. This marks a significant milestone as the first-ever content generation plugin in the Kentico CMS, designed to empower content creators and marketers across the USA.
About the Kentico Content Generation Plugin-KGAIT
The Kentico Content Generation Plugin is meticulously crafted to streamline and elevate the content creation process for all Kentico users. It harnesses the power of advanced AI to facilitate the generation of high-quality, relevant, and engaging content, ensuring that your digital platforms captivate and resonate with your target audience.
Key Features
AI-Powered Content Creation : Generative Ai enabled Content Creation tool, KGAIT, Developed by Ray Business Technologies, exclusive for Kentico Community.
Save Time & Money : Develop Content within Kentico Environment, realize the full potential of your Kentico Power. Save Money.
User-Friendly Interface : Generate Prompts easily with customized interface to generate Ai content with KGAIT. Let KGAIT do all the hard work for you.
Kentico + KGAIT : Ideal CMS with AI-Powered dynamic content generation
Personalized content : Generate Personalized and Business Specific Content with SEO compatibility with KGAIT for your products, services, case studies, testimonials, articles & more.
Celebrating Innovation in Content Creation
This plugin is not merely a tool; it's a testament to Ray Business Technologies' commitment to driving innovation and offering robust solutions for content creators and marketers utilizing Kentico CMS. It's designed to cater to the unique and dynamic needs of Kentico users, ensuring that creating, managing, and optimizing content is not just simplified, but also significantly more impactful
.
Get Started with the Kentico Content Generation Plugin-KGAIT
Embark on a transformative content creation journey with the Kentico Content Generation Plugin. Download Now → and explore a world where technology and creativity converge to create stellar digital content.