Vasu Yerramsetti, Solution Architect At Ray Business Technologies Is Now A Kentico Xperience Certified Developer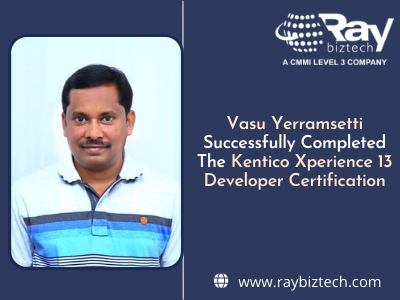 Vasu Yerramsetti, Kentico CMS Solution Architect at Ray Business Technologies, has recently received his Kentico Xperience Developer Certification! Vasu has demonstrated his deep experience and technical skills on the newest Kentico and ASP.NET tools.
"I'm honoured to be part of RBT and feeling great to be certified as Kentico Xperience Developer", Vasu stated. Vasu has been a crucial resource and he has been associated with RBT for more than a decade. Vasu adds enchantment to our delivery by bringing functionality to stunning designs and solutions' markups, thanks to his 10+ years of experience in Kentico CMS Solution Architecture. Vasu is responsible for the architecture of some of our clients' most sophisticated and mission-critical systems.
About Ray Business Technologies
Ray Business Technologies is a Global Information Technology Company Providing IT Services and Solutions to clients worldwide. We are a leading Kentico Xperience Gold Partner having one of the largest teams of Kentico Certified Developers who have significant experience in developing complex and scalable solutions on Kentico. Our Kentico experts can help you to migrate all your existing Kentico projects to the modern MVC .NET technology.