The latest South Asian News Channel website 'Wion' is awarded as 'The site of the month'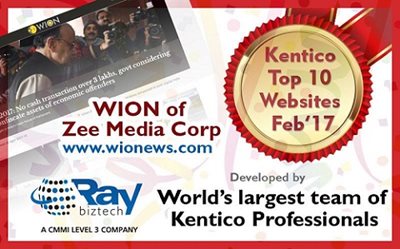 12th April, 2016. Hyderabad, India. The latest South Asian News Channel website 'Wion' developed by Ray Business Technologies is now the site of the month. The website was launched in June 2016 and within a short span of time there was a 5000% increase in traffic in December 2016 and since then over 50% of traffic is successfully maintained.
The development of the website started when the client came up with a requirement of a reliable technology solution that could be easily developed, extended and integrated with third party applications and systems. Understanding the requirement, Ray Business Technologies developed MVC based news portal with two level caching to handle high volume traffic.
The user-friendly dash board makes the website handle high volume traffic. It enables authors to post more than 200 articles per day. The deployment of entire solution was done with Redis storage for caching and Microsoft Azure. Additionally, Wion leverages Dalet solution for dashboard and news room maintenance.
About Raybiztech
Raybiztech is a CMMI Level 3, ISO 27001:2013 and ISO 9001:2008 Certified Company and the member of NASSCOM, HYSEA, NJTC and AIIA providing wide-ranging end-to-end IT Services for Business Enterprise Solutions, IT Infrastructure Management, Cloud Computing, Application Development, Quality Assurance & Testing services, Big Data, Enterprise Collaboration Services, Embedded Systems, Health Care and Banking & Finance services for companies in various sectors.