Swapna Narayandas Successfully Completed The Kentico Xperience 13 Developer Certification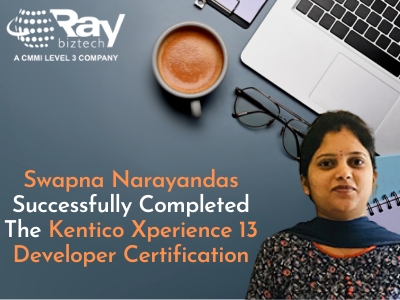 Swapna Narayandas, Technical Manager at Ray Business Technologies, has achieved her Kentico Xperience 13 Developer certification. A developer's technical skills and knowledge with the latest Kentico and ASP.NET tools and technologies can be validated by achieving this certification.
Swapna proved both her extensive understanding of Kentico's features and functionality, as well as her practical experience with the platform that helped her in clearing the Kentico Xperience Certified Developer Exam. The exam, which is a secure, online exam with 50 questions that must be answered in 90 minutes, focuses on high-level concepts in developing, designing, and maintaining Kentico websites, as well as knowledge of ASP.NET development, MS SQL database management language, and the creation of data-driven web user interfaces.
"The Kentico Xpereince 13 Developer Certification exam is extremely demanding, and it needs many hours of working knowledge within the framework, in addition to going through the study material" Swapna states. "I hope that my achievement of this certification demonstrates Ray Business Technologies' passion to ensure that our employees are specialists in developing the greatest possible solutions for our clients."
Ray Business Technologies, as a Leading Global Kentico Gold Partner, is delighted that the majority of its employees are Kentico Xperience certified. Ray Business Technologies now has 30+ Kentico Xperience Certified Developers and 10+ Kentico Xperience Certified Marketers. It is always challenging to stay ahead of the competition and we are proud that our team is constantly supporting us in every possible way.
About Ray Business Technologies
Ray Business Technologies is a Global Information Technology Company Providing IT Services and Solutions to clients worldwide. We are a leading Kentico Xperience Gold Partner having one of the largest teams of Kentico Certified Developers who have significant experience in developing complex and scalable solutions on Kentico. Our Kentico experts can help you to migrate all your existing Kentico projects to the modern MVC .NET technology.