RBT honor long-serving associates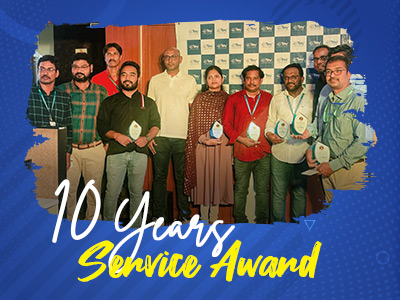 Ray Business Technologies organized Service Award Felicitation celebration for Associates who have worked for RBT for 5 and 10 years.
Ray Business Technologies' management congratulated the company's long-serving associates. Eight associates who have worked for more than five and ten years have been recognized and rewarded for their commitment, dedication and hardwork.
Mr. Ajay Ray, Managing Director, said at the event, "RBT is flying high and has a global brand because of people like you who have contributed immensely for years together."
Mr. Ajay Gupta, CEO, in honoring the associates said "The enthusiasm and dedication with which you have exhibited should serve as a source of inspiration for others. I hope the service will continue for many more years."
Ray Business Technologies believes that it is essential to recognize associates on service anniversaries and important achievements.
Associates received a certificate of service, memento and a cheque for 3,00,000 rupees in appreciation of their outstanding loyalty and willingness to go above and beyond the call of service.