Ray Business Technologies Appraised at Maturity Level 3 for CMMI Services V2.0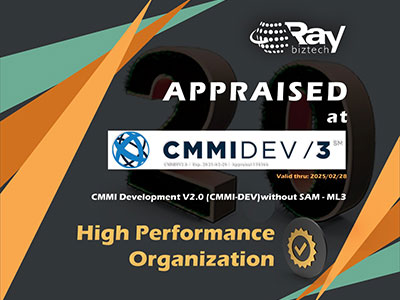 Ray Business Technologies (RBT), announced today that the organization has been appraised at Maturity Level 3 for CMMI Services V2.0. The appraisal was performed by Concept QA Labs. CMMI is an enhanced version of the Capability Maturity Model adopted worldwide by leading IT organizations as a benchmark quality standard. It is a capability improvement framework that provides organizations with the essential elements of effective processes that ultimately improve the performance. The appraisal rating at maturity level 3 indicates the organization is performing at a more focused and defined level.
The overall focus of CMMI V2.0 has been to make the model performance-oriented. At this level, processes are well characterized and understood, and are described in quality standards, tools, procedures, and methods. These appraisals highlight RBT's commitment to quality and customer centric, delivering quality output across the projects.