Ray Business Technologies is proud to be associated with Planet Water's Project 24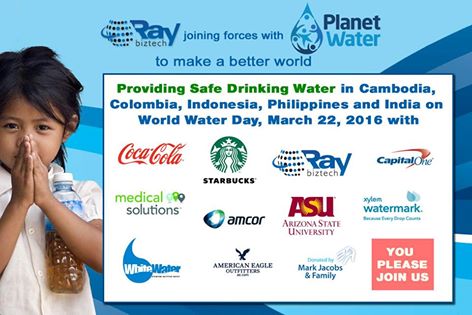 Pune, India - March 22, 2016 - Raybiztech is proud to be associated with Planet Water's Project 24, an initiative to provide drinking water to over 24,000 people in 5 Countries that includes Colombia, Cambodia, Indonesia, India and Philippines in 24 hours.
The Primary Schoolin Perne, which is located in village of Pune lack access to clean drinking water, as the open water sources are dirty and contaminated.This year Raybiztech has joined with Planet Water for providing clean drinking water.
Mr.Ajay Ray, Managing Director of Raybiztech in his statement said that "Raybiztechis excited to celebrate World Water Day by impacting the lives of so many people as it believes Hygiene and Health are a way to improve the quality of life and to increase accessibility for safe drinking water to the people. We are always ready to contribute towards social cause and the smiles of these children encourage us to do more to bring safe, clean drinking water to the community in a need. "
About Raybiztech
Ray Business Technologies is a CMMI Level-3, ISO 27001:2013 and ISO 9001:2008 Certified Company that offers comprehensive end-to-end IT Services for Enterprise Collaboration Services, Application Development, Business Enterprise Solutions, Big Data, Embedded Systems, Cloud Computing and IT Infrastructure Management, Testing and Quality Assurance Services to organizations in the Insurance, Healthcare, Retail, Media & Entertainment, Banking & Finance, Manufacturing, Leisure & Travel, Telecom and Energy & Utilities verticals as well as Independent Software Vendors.