Ray Business Technologies is now NASSCOM member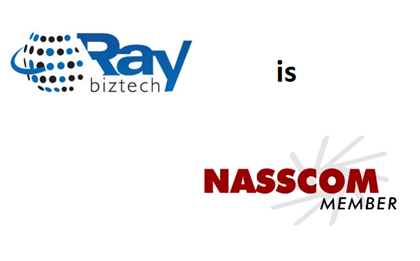 February 5, 2012. Hyderabad, India. Making the most of its experience and expertise in the IT industry, Ray Business Technologies recently became the member of NASSCOM. NASSCOM Membership provides a unique opportunity for an organisation and its professionals to engage and drive thought leadership.

The membership in the prime body like NASSCOM has once again showcased Raybiztech's superior standards of work, efficiency, integration and collaboration in the industry. NASSCOM Membership, which is also a token of proficiency and authenticity will accelerate the company's journey towards excellence.

The National Association of Software and Services Companies (NASSCOM) is a trade association of Indian Information Technology (IT) and Business Process Outsourcing (BPO) industry. Established in 1988, NASSCOM is a non-profit organization and world-wide trade body with more than 200 members out of which more than 250 companies are from the UK, US, Japan, EU, China and India. The members of NASSCOM are in the business of software services, software development, software products, IT enabled services and eCommerce.
About Raybiztech
Raybiztech is a leading IT Services and Solutions company providing first-rate IT solutions to enterprises all over the world. Some of the services offered by Raybiztech include Enterprise Solutions, IT services, Testing and Quality Assurance services, IT Infrastructure Management and Cloud Computing to companies in diverse verticals.