RBT donates necessary items to people affected by Covid-19 pandemic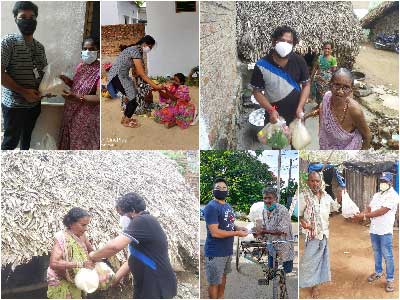 Raybiztech has launched a campaign to donate essential items that meet their needs and bring significant joy, as part of its efforts to add happiness to the poor and cheer to orphans and elderly people in society. Our employees have been passionate about organizing and carrying out the campaign – and are helping wholeheartedly with the things and valuables needed for the needy.
The active drive was conducted at different places from 7th August 2020. Our associates are continuing this CSR program for the needy in their own locations in this Covid-19 Pandemic.
The team donated items such as Rice, Vegetables, Cooking oil, Fruits, oil, soaps and sanitizers, and more. The CSR team made its presence felt by spending quality time with needy people.
Raybiztech associates set up a brilliant show of team effort with the help of competent and innovative leadership, and pledge to execute a successful CSR program.
Raybiztech will continue to give back to society and inculcate a sense of standing up for the needy ones. Our associates are empowered to respect and care for the downtrodden and needy segments of society, as well as the support and compassion they need – and actions in that regard. Raybiztech is excited to be able to share more of these projects in due course.
About Raybiztech
Raybiztech is a leading global Information Technology (IT) Services and Solutions, a CMMI Level 3, ISO 27001:2013 and ISO 9001:2015 Certified Company. We are a Member of NASSCOM, HYSEA, NJTC, and AIIA. Raybiztech offers comprehensive end-to-end IT Services for Business Application Development, Enterprise Solutions, Enterprise Collaboration Services, Cloud Computing and IT Infrastructure Management to all organizations.