RBT donates INR 2 Lakhs to Anandwan, Maharogi Sewa Samiti, established by Sri Baba Amte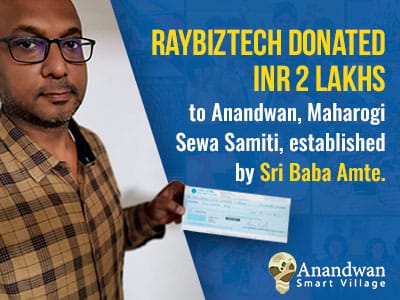 RBT has donated INR 2 Lacs to Anandwan, Maharogi Sewa Samiti, Warora, which was established by internationally known human rights activist, Sri Baba Amte in 1949. The Maharogi Sewa Samiti is well known for providing treatment for the marginalized leprosy afflicted and people with disabilities through treatment, training and active inducement in self- managed communes. The Institution has been a pioneer in medical treatment and rehabilitation of leprosy patients in the world. This Institution has won several awards nationally and internally for their service and dedication.
It was our small gesture to support their selfless cause who are on a mission to not only treat the people but also improve their Socio- economic and Psychological welfare which enables the individual to lead a healthy, productive and confident life.
Our Co-founder and CEO, Mr.Ajay Gupta handing over the cheque to Anandwan, Maharogi Sewa Samiti.
About Ray Business Technologies
Raybiztech is a leading global Information Technology (IT) Services and Solutions, a CMMI Level 3, ISO 27001:2013 and ISO 9001:2015 Certified Company. We are a Member of NASSCOM, HYSEA, NJTC, and AIIA. Raybiztech offers comprehensive end-to-end IT Services for Business Application Development, Enterprise Solutions, Enterprise Collaboration Services, Cloud Computing and IT Infrastructure Management to all organizations.