Ray Business Technologies exhibits at Small Business Expo in New York, USA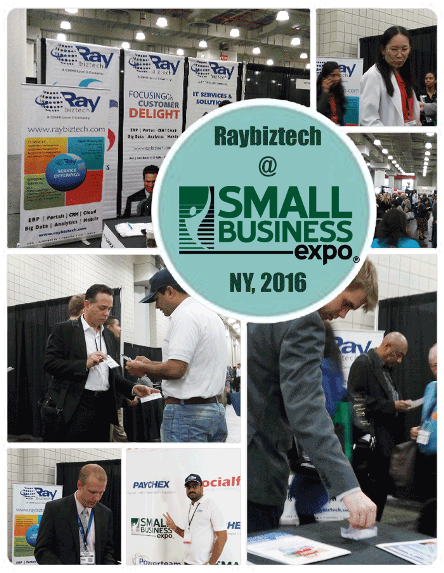 June 9, 2016. New York, USA. Leading IT Services and Solutions provider, Raybiztech recently attended Small Business Expo on 9th June, 2016, in New York, USA. Lauded as the largest business to business show, networking event and conference, Small Business Expo provides entrepreneurs and decision makers from across the world an opportunity to connect and learn about ingenious products and services, which will enable their business to reach great heights.

The attendees of this event included many Fortune 500 as well as start up firms. This was a great opportunity for the Raybiztech team to put the company in front of thousandsof businesses, investors and decision makers.

The companies that attended this event include, BNCVoice, Factor king, White Harris PLLC, Paramount Solutions, Tech Please, Bank of America, AICPA, Wojcik Law Firm, Quintessence Multimedia and many other prominent companies.

Ajay Ray, Founder and Managing Director at Raybiztech, says "The Small Business Expo is USA's one of the largest business trade show, networking event &conference andthe large turnout given us excellent opportunity to interact with diversified businesses and understand their business and technology needs, thus increasing our business and technology consulting prowess".
About Raybiztech
Ray Business Technologies is a prestigious IT Services and Solutions Organization providing first-rate IT solutions to enterprises across the world. We are now leading the way to power the next generation enterprises with Big Date, Cloud, Mobility and Social Media Solutions. Raybiztech provides end-to-end Business Application Development , IT services, Enterprise Solutions, Testing and Quality Assurance Services, Enterprise Collaboration Services, IT Infrastructure Management and Cloud Computing and to organizations in several sectors.

#SmallBizExpo #Raybiztech

Small business Expo, New York's largest Business to Business trade show will be happening in Javits Convention Center, New York, USA on 8th June, 2017.

To get registered for this event visit http://10times.com/small-business-expo-newyork