Ray Business Technologies releases Kentico Responsive Template for Educational Institutes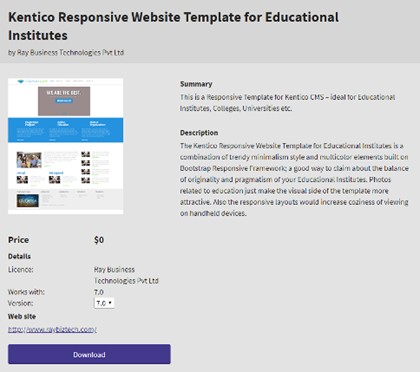 May 1, 2014. Hyderabad, India. Raybiztech, the leading IT Services and Solutions provider released exclusive Kentico Responsive Template for educational institutions in Marketplace. This template has instructions on how to take Kentico CMS transformations and leverage them for developing responsive website.

The Kentico responsive template for educational institutions is a blend of multicolor components and minimalism style built on Boot Strap Responsive Framework. This is the best way for claiming balance of pragmatism and originality of educational institutions. Photos relevant to education makes the visual side of the template more enticing.
You Can Download the Kentico Responsive Template from the below link:
http://devnet.kentico.com/marketplace/web-site-templates/kentico-responsive-website-template-for-educationa
About Raybiztech
Raybiztech is a leading IT Services and Solutions company providing best in class IT solutions to enterprises all over the world. Some of the services offered by Raybiztech include Enterprise Solutions, IT services, Testing and Quality Assurance services, IT Infrastructure Management and Cloud Computing to companies in diverse verticals.