Ray Business Technologies attends TechDay 2016 at New York, USA
April 21, 2016. New York, USA. Ray Business Technologies, the leading IT Services and Solutions company, recently attended TechDay on 21st April 2016, in New York, USA. TechDay is primarily engaged in producing events focusing on helping startup communities make consequential connections, boost ROI and grow visibility. Every year #TechDay hosts over 50,000 people from all over the world. Today, it is considered as the most value-driven and biggest start up event in the world.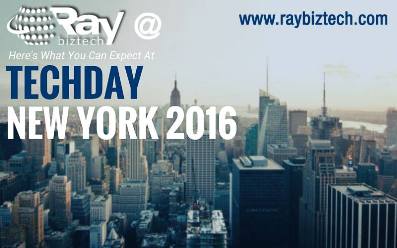 It was a good opportunity for the Raybiztech team to pitch their ideas to investors as well as general public. Many prominent figures in the entrepreneur and technology industry held keynotes and programs ranging from best practices and state of the industry in their respective firms. While the ultimate mission of the trip was to gain first-hand experience at conferencing and networking. It was truly amazing to see aspiring businessmen applying new concepts and producing tangible products with them. This forum sparked something within the Raybiztech team that will keep blazing for a long time.

Attending TechDay with an amazing group of speakers and peers was undoubtedly a major highlight of the event, which ultimately enabled the Raybiztech team to gain valuable insight and understand where the industry is headed.
About Raybiztech
Ray Business Technologies is a prestigious IT Services and Solutions Organization providing first-class IT solutions to enterprises across the world. We are now leading the way to power the next generation enterprises with Cloud, Mobility, Big Data and Social Media Solutions. Raybiztech provides end-to-end Business Application Development, Enterprise Collaboration Services, IT services, Enterprise Solutions, Quality Assurance and Testing Services, Embedded Systems, Cloud Computing and IT Infrastructure Management to organizations in a number of sectors.