Ray Business Technologies attends Ad:tech in New Delhi, India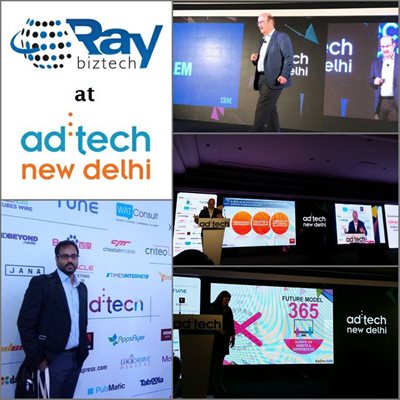 New Delhi, India. 9-10 March, 2016. Raybiztech, the leading IT Services and Solutions company, had a great experience and exchanged digital ideas and interesting opportunities at this exciting digital world conference held in New Delhi, India. Ad:Tech is India's No1 media and marketing technology event, where marketing media communities and technology come together to create strong partnerships, share newer strategies to compete in this rapidly changing marketplace.
Ad:Tech 2017, started with a bang enticing several renowned publishers, digital start ups, advertisers and service providers to attend this grand event. The keynote speakers of this event were the brightest and the best minds of the digital marketing space, which enabled to identify latest trends.
The event saw a bunch of marketers, publishers and service providers mull over the latest happenings in content marketing, social media, customer engagement and big data technologies. Every one presented their own experiences and point of views on how they worked in a particular situation and resolved the problem by finding a solution that matches the requirements of the brand, enhance ROI and amplify customer recall.
The event was absolutely run at a world class level filled with pleasant surprises. The brilliant conversation and knowledge exchanged by the Raybiztech team during the first day of the conference was overwhelming. They really enjoyed the engagement of the attendees and the level of content sessions they could sit in on.
The speakers of this event included Gautam Sinha, CEO of Times Internet, John Williams, VP Advertising, South and South East Asia, BBC Worldwide, Joe Nguyen, Senior VP, Asia Pacific, Comscore, INC, Anupriya Acharya, Chief Executive Officer, Publicis Media India, Alokedeep Singh, Head- eCommerce, Titan etc.
About Raybiztech
Raybiztech is a CMMI Level 3, ISO 27001:2013 and ISO 9001:2008 Certified Company and the member of NASSCOM, HYSEA, NJTC and AIIA providing wide-ranging end-to-end IT Services for Business Enterprise Solutions, IT Infrastructure Management, Cloud Computing, Application Development, Quality Assurance & Testing services, Big Data, Enterprise Collaboration Services, Embedded Systems, Health Care and Banking & Finance services for companies in various sectors.