Ray Business Technologies attended ProgressNext 2016 Partner Conference in Las Vegas, USA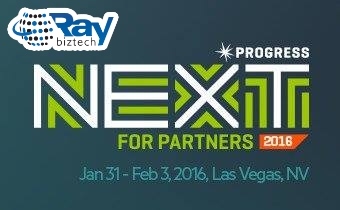 Las Vegas, Nevada, USA - Jan 31- Feb 3, 2016 - Raybiztech attended ProgressNext 2016 Partner Conference, held in Las Vegas, USA. The Conference was started by Keynote speakers with inspiring messages of ideas and innovation. The Keynote speakers were Phil Pead, President & CEO, Jerry Rulli, COO, Matt Robinson, CTO, Kimberly King, VP Partners & Channels, Melissa Puls, CMO of PROGRESS.It also included 250 plus attendees, 40 plus hands-on experiences and 3 Dynamic Keynotes.
It was an Interactive and Innovative Conference that helps to customize as per our needs, in regard what we want to learn, talk and experience. This kind of Conference has helped Raybiztech not only in giving hands-on interactions and experiences but also with localizing and modernization of businesses.
About Raybiztech : Ray Business Technologies is a CMMI Level-3, ISO 27001:2013 and ISO 9001:2008 Certified Company that offers comprehensive Sitefinity Services and Solutions for WCMS, Upgrade, Integration, Support & Maintenance.